Clay Farm Drive, Trumpington Cambridge CB2
Asking Price

£462 per week
A brand new superbly presented 3 bedroom terraced home set over 3 floors and situated just off Long Road on the new Halo development. With beautiful south facing, private terrace and parking for up to 2 cars.
Cambridge
66-68 Hills Road
Cambridge
CB2 1LA
A brand new superbly presented 3 bedroom terraced home set over 3 floors, 1,420sq ft internal area and situated just off Long Road on the new Halo development approximately 2.5 miles south of the city centre and offering excellent access to Addenbrookes Hospital. A primary and secondary school and large country park providing a village feel with the added convenience of City living on your doorstep.
Other Features
Brand New spacious 3 Bedroom home
Gated parking for one at rear and free parking at front
Close to local amenities including new sports centre
Close to Addenbrookes Hospital
Private South facing terrace
1,420sq ft internal area
This plan is for layout guidance only. Not drawn to scale unless stated. Windows and door openings are approximate. Whilst every care is taken in the preparation of the plan, please check all dimensions, shapes and compass bearings before making any decisions reliant upon them.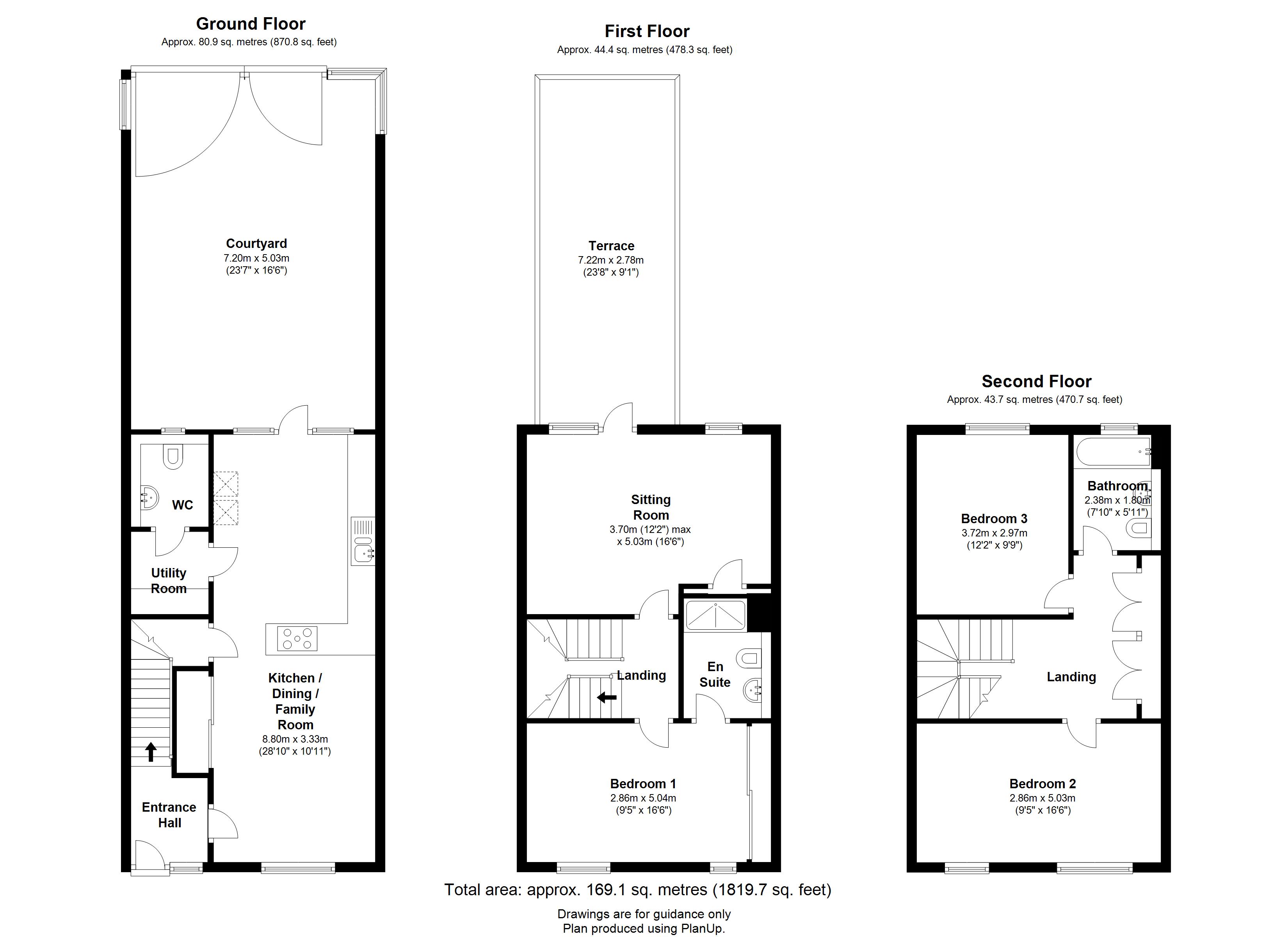 Lettings Charges
Charges: After an offer is accepted by the Landlord, which is subject to contract and acceptable references, the following non-refundable charges and fees will be payable before the commencement of the tenancy: Preparation of tenancy Agreement: £222 (inc VAT) References per Tenant £54 (inc VAT) and per guarantor. A deposit, usually between 6-10 weeks of the agreed rent. Any rent advertised is pure rent and does not include any additional services such as council tax, water or utility charges. Please ask the local office for a full illustration of tenant charges or visit struttandparker.com/tenantcharges
Disclaimer: These lettings particulars have been prepared in good faith to give a broad description of the property. Please note that we have not carried out a survey of the property, nor have we tested any of the services or appliances, but have relied only upon our own brief inspection and upon information supplied to us by the landlord. The description, including photographs, of the property and its contents, are intended to be a guide only rather than a detailed and accurate report and inventory. Floor plans, measurements, areas and distances are intended to be approximate only and should not be relied upon for the purpose of fitting furniture etc. Photographs are not necessarily comprehensive or current, and no assumption should be made that any contents shown in them are included in the letting of the property. No representation or warranty is given as to the title of the property or as to the existence or otherwise of any planning consent, building regulation approval or other statutory or regulatory permission. Prospective tenants should note that offers are subject to status, references and a comprehensive agency agreement. The stated rent may not include all services, amenities or outgoings generally that may, by necessity or choice, be associated with the property. If there is any particular aspect of the property about which you would like further information, we invite you to discuss this with us, especially before you travel to view the property.