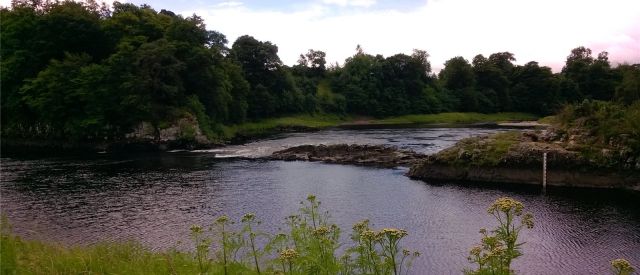 Sold
River Tay Perthshire PH1
Offers Over

£400,000
24 consecutive weeks in perpetuity on one of the most renowned and admired salmon fisheries.
Negotiator, National Estate Agency
Edinburgh
CLOSING DATE: Noon on Friday 11 November 2016
The subjects of sale comprise 24 weeks of salmon fishing for six rods, from the opening day of the season on 15 January through to the end of June. The five-year average for these 24 weeks on Stobhall (2012 to 2016 inclusive) is 96 salmon/grilse.
Method of Sale
Lot 1 - 3 rods;
Lot 2 - 3 rods;
The Whole - 6 rods.
The River Tay is Scotland's longest salmon river with a catchment area of 2,800 square miles. The river runs for some 117 miles and passes through the dramatic countryside of Argyll and west Perthshire and, after Loch Tay, is joined by many tributaries on its course downstream including the Lyon, the Tummel, the Isla and the Ericht. The river passes through a variety of highland scenery and rich rolling farmland to the ancient city of Perth and the North Sea beyond Dundee.
The Stobhall Salmon Fishings
The Stobhall beat of fishings extends to some 1.8 miles and is opposite Taymount, with whom there is a reciprocal arrangement and good working relations. Stobhall is downstream from Ballathie and Cargill; and upstream from Catholes and Burnmouth. The fishings include some of the most famous pools on the river; The Linn Pool, Findford Head, Alderns and Kill Mou amongst their number. There is a good variety of water with a total of 30 pools. Stobhall is well known for its quality fly water. The beat has produced consistent catch records over the last five years. Stobhall and Taymount are well known big fish beats and produce a number of fish in excess of 20lbs each season. Of 23 Salmon of 50lbs and over caught on the River Tay recorded by Major John Ashley-Cooper in this book "The Great Salmon Rivers of Scotland", five were caught on Stobhall/Taymount including a fish of 55½lbs by P M Coates in October 1903 on a Wilkinson fly. The fishery is divided into an upper and lower beat, and both can be fished by wading, from the bank, or by boat.
Reciprocal Agreement
The Stobhall Fishings have a formal reciprocal agreement with Taymount opposite. Whilst it is the left bank, together with a strip of ground and necessary rights of access which are owned, the proprietors enjoy exclusive double bank salmon fishing on alternate days between the upper and lower beats. The days alternate annually. This reciprocal agreement also covers rod numbers, moorings, huts, access and bank maintenance.
Situation
The Stobhall Salmon Fishings are situated in attractive countryside of rural Perthshire. This part of Scotland is renowned for its beautiful and unspoilt country, and yet is also highly accessible. The fishery is 9 miles north of the city of Perth, which has a wide range of shops, cultural attractions and professional services.
Communications are excellent with Perth offering regular rail links north and south, whilst Edinburgh with its airport (50 miles) is one hour distant. There are championship golf courses nearby at Rosemount, Carnoustie, Gleneagles, and St Andrews. This area of Perthshire is renowned for its historic houses, and also the pheasant and grouse shooting that can be rented on local estates.
Directions
To reach Stobhall from Perth, take the A9 north and the B9099 through Stanley. Just beyond the village, take the minor road signed to Ballathie and the two tracks leading to the fishings lie on the right hand side, at Taymount House and a mile beyond opposite Innernytie Farm.