Our Edinburgh City market update for the beginning of 2016.
Consultant, South Hams – Salcombe
The market has displayed strong performance in the first few months of 2016, with a steady upward trajectory in both property values and sales volumes over the last five years. This is particularly true if we temporarily disregard the distortion caused by LBTT in 2015. Behavioural changes following two property tax regime changes in a little over a year are still playing out, so a true picture of the market will become clearer over the next six months once we are able to analyse figures which have not been distorted by either the introduction of LBTT or the additional 3% surcharge on investment property and second homes.
The EU Referendum is causing uncertainty at the top end of the market. However, a number of properties that we are marketing with asking prices over £2m are attracting local and overseas interest. This highlights the fact that buyers are still keen to commit to the Scottish capital for its outstanding quality of living and excellent schools. With the Scottish elections now behind us, I am optimistic about the performance of the Edinburgh property market in 2016.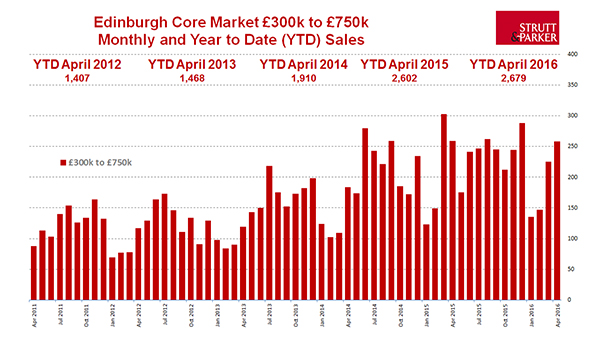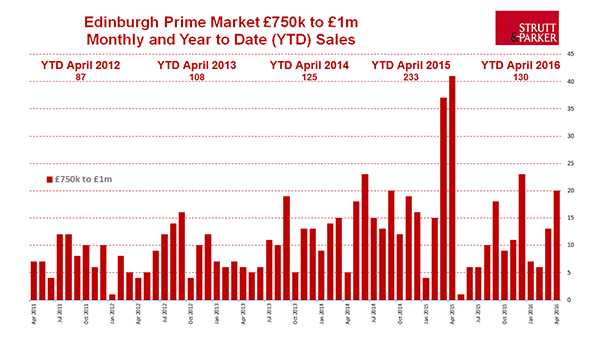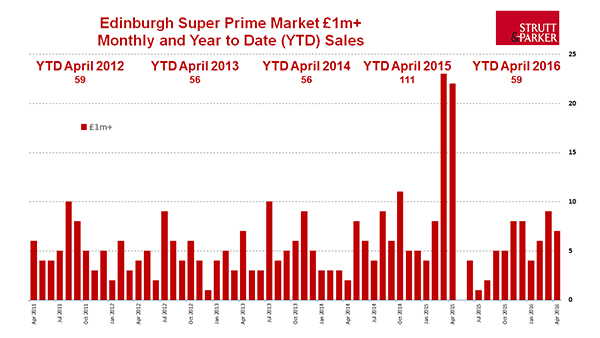 Edinburgh North
Demand for high end, quality properties far outweighs supply. The market is characterised by a dearth of family homes in the £500,000 to £1m bracket, we have seen the return of closing dates and many deals completing for well in excess of the asking price.
This is largely due to the rush in sales before the introduction of Land and Buildings Transaction Tax (LBTT) which soaked up an enormous amount of sales at this level last year. The extra financial cost of LBTT means that many families are now unwilling or unable to trade up and are instead considering extending their current house. As such, when these properties do come to the market, demand is very high; they are going to competitive closing dates and attracting offers often well in excess of the advertised value.
New Town, West End and Stockbridge flats continue to be highly sought after despite the 3% surcharge on investment property and second homes introduced in April. For example, a one-bedroom flat in Northumberland Street recently sold very quickly for well in excess of £575 per sq ft; a huge figure for Edinburgh's mature market.
Edinburgh South
There is fantastic demand for large family houses with secure gardens in the Grange, Morningside and Bruntsfield areas and there have been a number of high valued recent sales in Colinton and Balerno. The Grange is at the top of the wishlist, sought after for its easy access to prime state and private schooling as well as local amenities. Additionally, Southside flats and downsizers' apartments, particularly those with gardens, are in demand and the market for good quality student flats in Marchmont and Bruntsfield is still as strong as ever.
New Homes
Strutt & Parker is delighted to launch a series of new developments in Edinburgh's West End. Dunedin House, a venture between two of Edinburgh's most highly regarded residential developers Walker Group and Melford, have started work on six luxury apartments in Atholl Crescent, a building which was previously home to the Scottish Whisky Association. Dunedin House has also submitted a planning application to convert investment management firm Brewin Dolphin's former base at 6-7 Drumsheugh Gardens into ten flats with lift access and parking as well as a further five apartments at 29 Drumsheugh Gardens.
The Atholl Crescent development, which consists of six 2–4 bedroom flats, is expected to be finished by the end of the year. The flats will range in price from £479,000 to £876,000. The second development, 6 and 7 Drumsheugh Gardens, will feature ten luxury flats starting from £450,000. The development will also include six parking spaces and a lift. We envisage considerable interest from downsizers attracted by these magnificent buildings and their locations.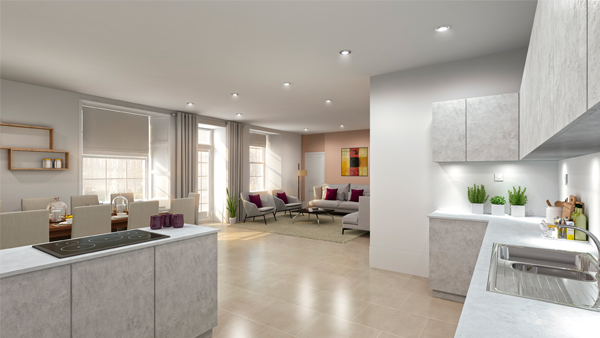 These projects, and the response we have already had to them, are significant indicators of market confidence. Developers are investing in commercial to residential projects in prime locations such as the West End, confident that they will sell and the market price has proved that there is demand for these luxury apartments.
For further detailed plot selector and promotional video please click the following links.
To see the plot selector please click here. To see the promotional video please click here.
To view all properties for sale from our Edinburgh office, please click here.