From the innovative and vibrant city of Inverness to the picturesque coastal villages of the Black Isle and the dramatic landscapes of Wester Ross, the Highland region has plenty to offer. With a growing economy, significant investment, a higher than average number of business start-ups, high city employment and an outdoorsy lifestyle that is hard to beat, is it any wonder that Strutt & Parker's Inverness office is seeing a continued increase in property enquiries and homes coming to the market?
Residential property market

The Highland property market continues to perform well with prices reaching a peak of £185,108 in 2019, 2% higher than last year, 14% higher than in 2014.
The IV2 postcode commands some of the highest average house prices (£202,815) in the area surrounding Inverness, 2% up on the previous quarter in Q4 2019. In the centre of Inverness (IV1), prices averaged £164,250 in Q4, 1% higher than in Q3. In IV3 prices fell slightly (-1.3) over the quarter to £161,671.


Low stock levels meant that properties sold very quickly in Inverness during 2019 and sometimes in excess of their asking price and home report valuation. Those with access to schooling, public transport, amenities and in close proximity to the airport were in demand. However, with more and more people working from home or working away from home during the week – and with ongoing improvements to digital infrastructure - location has become a secondary consideration for those focussing on rural locations. Grantown on Spey (PH24), Fortrose (IV10) and Ballachulish (PH49) are some of the most expensive locations with prices significantly higher than the rest of the region.


At the end of 2019, the average price of a property in Grantown on Spey – in the heart of the Highlands and Cairngorm National Park - was £347,154, while Fortrose commanded a 31% premium over the Highland average with an average price of £246,250. Properties in Beauly and Nairn command a premium of more than 10% over the Highland average.
The market is underpinned by lack of stock which affects pricing and competition. The number of properties advertised for sale across the Highlands was -4% lower than last year in the month of January. The average time on the market for Highland property increased slightly compared to the same month last year however flats and 2 bedroom properties sold more quickly in January 2020.


Highland economy
Inverness, which has one of the highest employment rates in the UK, is renowned for its innovative energy, life sciences and technology sectors. There is potential job growth within these sectors as well as the financial and business services as investment, diversification and expansion continues. Global companies including Lifescan, Norbord, Capgemini, Orion and the Global Energy Group all have bases in Inverness.
The £315m Inverness City-Region Deal is expected to deliver improvements to infrastructure, rural high-speed digital connectivity and the development of the Northern Innovation Hub, vital stimulants for business growth. To promote and raise awareness in STEM subjects, a Science Skills Academy has been set up for young people throughout the Highlands and Islands. SSE's Renewable's Highland Sustainable Development Fund is supporting community development.


The Highlands and Islands have also been allocated £5m of funding to help boost tourism and promote the scenery, wildlife and culture of the region. There have been several community energy initiatives such as Argyll's River Avich project and Coigach Community Development Company's wind development in Wester Ross. The Highlands and Islands area is promoting community innovation in areas such as battery and hydrogen energy storage. In addition to science and technology, the arts sector is also growing. Inverness Creative Academy is thriving and there are plans to create a hub for digital creative businesses in addition to the existing studios, workshop and exhibition spaces.


Tourism remains a key economic driver for the region as a whole. For the second year running the Scottish Highlands have been named the top UK Destination in the Wanderlust Reader Travel Awards 2020. The North Coast 500 (NC500) continues to draw tourists. Food and drink and sustainable tourism still provide employment for many Highland and Islands residents.
According to the HiE's 2018 survey, there is a strong collaborative culture with 67% of businesses working with other firms or planning to do so. Figures from Enterprising Highland show that the area has significantly higher numbers of businesses and business starts per 10,000 adults than the Scottish average.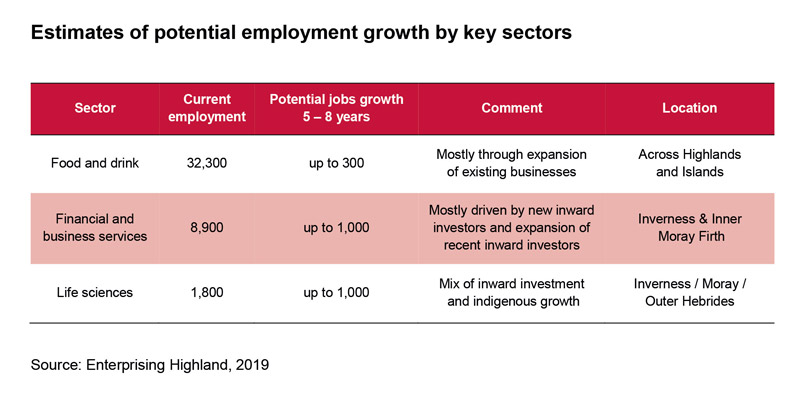 Why Choose: Highland
Inverness topped the list of UK cities in which to live and work in the Demos-PwC Growth for Cities Index published in November. It also offers easy access to some of the UK's most outstanding scenery from the Cairngorms National Park to the wild beauty of the North West Highlands.
From hillwalking and mountain biking to snowsports and watersports, it offers an outdoorsy lifestyle that is second to none. The Strutt & Parker Scottish Lifestyle Survey found that six in 10 of those living in the Highlands said the lifestyle and the great outdoors made Scotland stand apart from elsewhere in the UK. When questioned about their dream homes more than 60% of Highland respondents would choose a rural home with 34% opting for a cottage and 24% aspiring to a new build home.
The Highlands and Islands provide an attractive destination in which to live and work, particularly for young families and 20 – 45 year olds. The population stood at 235,540 in mid-2018, the 7th largest of 32 Council areas in Scotland