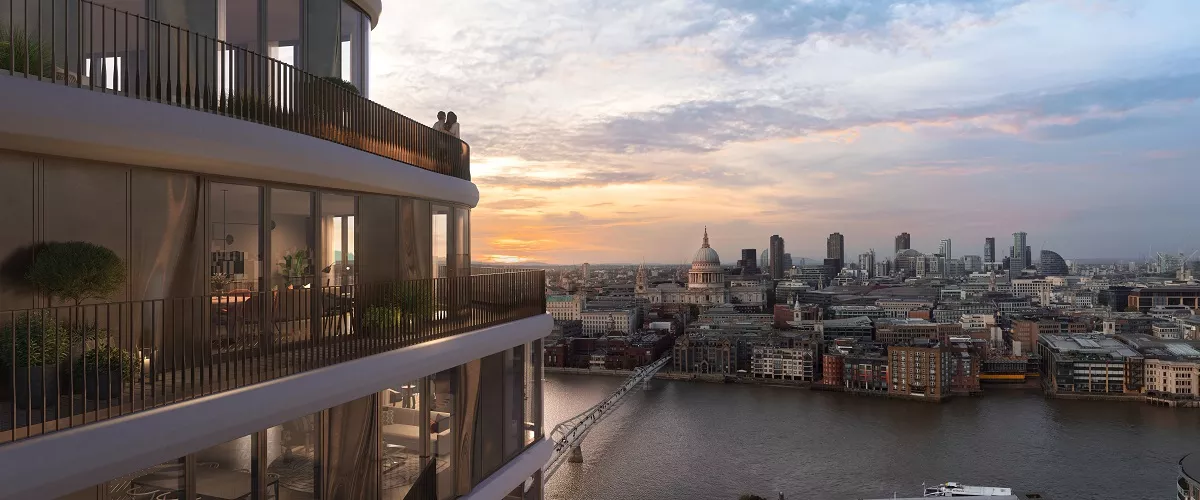 Senior Director, London New Homes
Back in 2018, emerging developer JTRE London was keen to enter the London residential market with a flagship luxury scheme. The ongoing scarcity of good-quality London land made their land purchase all the more enviable; its location, adjacent to Tate Modern and a stone's throw from the Thames, was set to offer future buyers a buzzing lifestyle with fabulous river views. Arriving in London with fresh eyes and few preconceptions, this developer had an intriguing parallel vision for their now-completed Triptych Bankside project.
Who's doing what?
At the outset of our involvement, talk of sustainability loomed large in development proposals; a term yet to acquire buzz-word status and a concept representing – back then – relatively uncharted territory. An early focus on 'passive design' – maximising the efficiency of natural heating, cooling and ventilation to reduce energy consumption – became a mainstay of the development's ethos. To take a stroll around the now-finished Squire & Partners buildings – set off by abundant planting, wildflower roofs and a scattering of bird boxes – is to witness nature reanimated in Central London.
UK developers are taking note. Bankside Yards, for instance, a nearby project in London's SE1 postcode by Native Land, is now positioned as the UK's first fossil-fuel-free major mixed-use scheme. Much is being made of ecological credentials; Chelsea Barracks has trumpeted the use of low-embodied-carbon limestone in its build, and at the other end of the affordability spectrum, Pocket Living developers frequently talk about their use of sustainable materials and green construction methods, allotments and energy efficiency.
Why the ESG focus?
10 years ago, Strutt & Parker conducted its first Housing Futures survey, looking at the motivations and aspirations of people looking to move within the following five years. Back in 2013, 41% thought the energy efficiency of their new home was important. Our most recent survey? 76%. Coupled with this has been the increasing desire for green space, eco-friendly building materials, and green tech, while health has been one of the largest climbing motivators for moving according to our ten year research; from 11th place to 5th place.
Looking back, JTRE London was on the pulse of key political issues and consumer trends. Today, Triptych Bankside has broken pricing records for the South Bank, having seen significant demand from environmentally aware buyers who recognise the benefits of low-carbon living solutions and a biodiversity-boosting environment.
As an added incentive for developers to 'go green,' lenders are now being urged to factor energy bill savings into mortgage calculations; there is a target for mortgage lenders to have a voluntary average EPC band C across their lending books by 2030. The fast-growing 'green mortgage' sector is motivating borrowers to own energy-efficient homes.
Where should the focus be?
With technology, knowledge and legislation evolving at pace, the new-build sector is well-positioned to adopt innovative and successful sustainability solutions – largely without the need to retrofit. Here are some of our key takeaways for shaping and delivering eco credentials.
Think about the combined operational and embodied carbon emissions across a building's entire lifecycle. Whole Life Carbon gives the best indication of overall impact, and can include upfront (construction) carbon emissions, ongoing operational emissions, 'use' and demolition emissions, disposal emissions, and repurposing potential.
Factors to consider include: construction impact(s); longevity, sustainability and recyclability of materials; appropriateness of design; flexibility of use; expected levels of ongoing maintenance; the potential for a zero-waste circular economy.
Carbon Footprint Assessments
Most new-build homes have an EPC rating of A or B, and EPCs are the most consumer-friendly measure of building performance. However, this means of testing energy performance does not take into account overall carbon footprint which can give a better indication of holistic sustainability.
Ratings systems such as BREEAM (Building Research Establishment Environmental Assessment Method) have traditionally been used to measure emissions from new office buildings, but there is growing pressure for residential developers to verify the entire carbon footprint of new homes.
Active and Passive Design
During development design stages, we often recommend that certain 'active' and 'passive' design strategies are laid out to ensure positive energy performance. Active strategies normally consist of heating, cooling and lighting systems, while passive measures use building layout, orientation, fabric and form to reduce energy demand.
Buyers are seeking intrinsic building design that optimises energy efficiency; such measures also help developers to meet the latest Building Regulation requirements concerning new-build CO2 emissions.
Sustainability in housing is still largely focused on carbon emissions, but we encourage our developer clients to recognise the importance of 'green infrastructure' in residential building. As well as capturing carbon and providing a habitat for local ecosystems, increased biodiversity has been shown to improve residents' health and wellbeing and can significantly contribute to placemaking initiatives.
Measures include: enhanced planting (landscaping, wildflower grassland, trees and shrubs); nest bricks and bat roosts; hedgehog highways; green roofs and walls; rain gardens; detention basins; bio-retention beds; and permeable surfaces. We also advise developers on 'biodiversity net gain' to ensure compliance with the 2021 Environment Act.

The need for house-builders to answer the 'sustainability question' is undeniably rising on the agenda, with eco-solutions requiring significant investment in terms of strategy and execution. But the long-term gains for our clients are already evident. Their new projects are responding better than ever to market demands, resulting in exceeded KPIs such as optimised sales values, sales rates and developer branding. With widespread participation, however, the real achievement will be a healthier balance between the built and natural environments.