The latest update to the future of Minimum Energy Efficiency Standards (MEES) regulations is Bill 50: Minimum Energy Efficiency of Buildings Bill 2022-2023 – to make provision to increase the energy performance of buildings; and for connected purposes. But, what would this mean for property?
Head of ESG and Sustainability
Presented by Sarah Olney, this bill went through its first reading on 24 March and the second reading stage is due on 24 November 2023. A version of this bill has previously been brought before both the House of Commons and the House of Lords.
If completing the legislative process during this parliament, the bill would result in the Minimum Energy Efficiency of Buildings Act. Given that the next general election must be called in or before January 2025, there is a chance that this bill will not complete the process in time.
However, it is important to note that there has been no slipping back of targets in this bill compared to earlier versions, in fact some have been brought forward. As a statement of intent, we can assume this means MEES is here to stay.
What would this mean for property?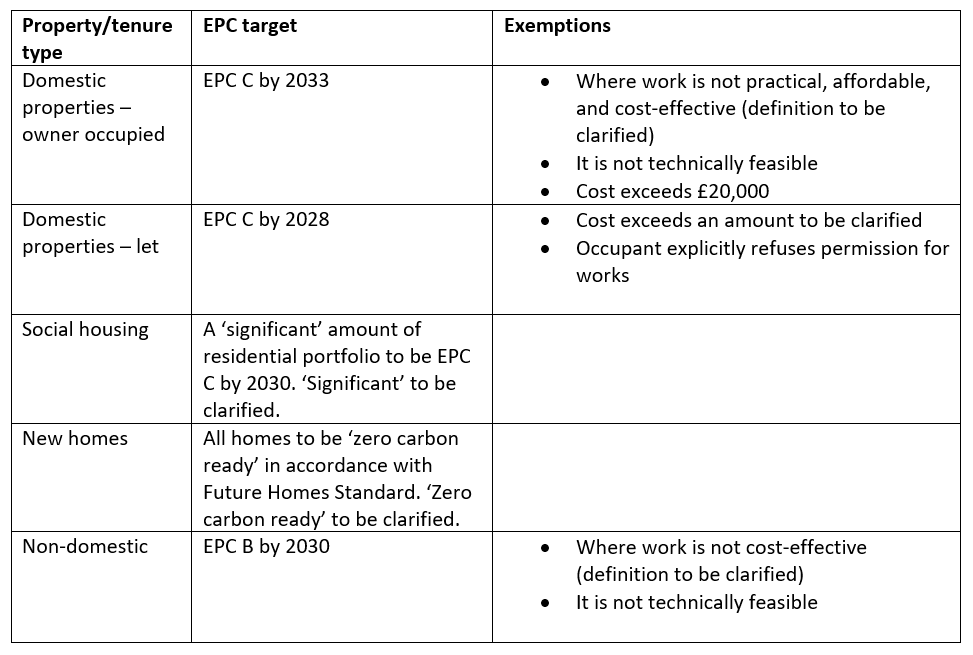 What are the major changes from expected MEES regulation changes?
Removal of staged approach – it had previously been expected that there would be a staged approach (2027 EPC C and 2030 EPC B for non-domestic let property and 2025 new tenancies and 2028 all tenancies for domestic let property), however, this bill does not reference the earlier stages.
Bringing forward domestic EPC improvements – it had previously been expected that a date of 2035 would be set for owner occupied homes to have an EPC of C.
Increase of spending cap – it had previously been expected that the spending cap for domestic properties would be £10,000.
Fewer exemptions – it had previously been expected there would be more exemptions for both domestic and non-domestic property. These may be clarified in the definition of what 'practical, affordable and cost-effective' means.
One other point…
Mortgage lenders will be required to have an average of EPC C across their lending portfolio by 2030, which is likely to result in a widening in the cost of borrowing between energy efficient and non-energy efficient properties.
Action to take
Firstly, you must ensure you have a valid EPC rating for all eligible properties so that you have the correct base level to start from and a list of up-to-date recommendations for each building. We recommend working with our building consultancy teams to identify necessary improvements and project manage works in a planned and structured way. This allows a comprehensive and proactive strategy in future proofing your assets ahead of 2030.
For more information:
Contact Donna Rourke or Alexander MacFarlane.