Oxford triumphed over Cambridge to win the 2017 Boat Race, but which city has gone the extra mile in the housing stakes. Guy Robinson, Head of Agency at Strutt & Parker, explores.
OXFORD
Residential property - premiums for location and quality thanks to infrastructure improvements
Mark Smith, from Strutt & Parker Oxford, says:
'Despite the turbulent political climate, Oxford remains a principal destination for families and businesses alike. At the end of last year we saw the completion of the railway extension from London Marylebone linking Oxford Parkway to Oxford city station. This means you can now get from Parkway to Marylebone on the Chiltern line in just under an hour, giving anyone in the north of Oxford an alternative to battling into the city centre. Even the new station car park is enormous and (surprisingly) doesn't charge a great deal. This is the first new station linking a major city to London in 100 years! The news of its arrival resulted in considerable demand for houses on the north side of the city, suburbs like Summertown, and the villages surrounding.
'This combines with all the aspects we have here already, especially the top rated schooling: state options like Wolvercote Primary and Cherwell Secondary, and then you have all the private ones like Dragon School, Summer Fields, Oxford High School for Girls, and St Edward's – all in North Oxford. Another area which has benefited from the new station is Kidlington, where we've seen a noticeable rise in house prices. Kidlington has recently been dubbed as one of the top 5 most investable areas for property.
'We have also seen increased demand from the Asian market with Parkway linking to Bicester Village Shopping, which is currently undergoing a substantial extension as well. It has become clear that buyers would rather pay a premium for the better locations and houses which are in excellent condition, than compromise on secondary positions or houses in need of updating
'Infrastructure changes to the city remain important to the overall health of the property market; they make fluctuations in the market feel less exaggerated, creating a safe haven. Investment to our road and rail networks all help to generate a sense of things happening and evolving, making the city an exciting place to be right now.
'We are seeing buyer confidence increase and expect the volume of transactions in 2017 to outstrip 2016.'
Varsity line making waves since announcement in Autumn Statement
Giles Lawton, Head of National Estate Agency at Strutt & Parker Oxford, says:
'A fast and efficient rail link between two world leading University cities would undoubtedly forge even closer links. This would be especially important to the burgeoning commercial partnerships that both institutions are developing. The highly competitive world of scientific research is increasingly allied to Universities and this rail link may be key to the UK competing with the US and Far East. There would also be the commercial benefit for tourists being able to travel much more efficiently between the centres, currently an approximate 5 hour coach journey or a 3 hour train ride.'
Housing Shortage - shortfall of 20,000 new homes adsorbed by surrounding authorities
Piers Beeton, Development Surveyor at Strutt & Parker Oxford, says:
'Oxford's objectively measured need in the strategic housing market assessment (SHMA) was to provide for 28,000 homes up to 2031. Oxford City announced they could only provide for 8,000, leaving a shortfall of 20,000 homes to be picked up under the 'Duty to Cooperate' by neighbouring authorities.
'Oxford City itself is heavily constrained, the green belt that surrounds the city was once described as 'a noose around Oxford's neck'. Award-winning housebuilder 'Hill' has recently started work on the first phase of Barton Park which is a strategic allocation for 800 units to the North of Oxford in the Green Belt. They are also pursuing plans to provide for circa 400 units in Oxford's 'Northern Gateway'.
'I think perhaps the largest change we are seeing is the surrounding authorities' plans to take on board numbers that Oxford cannot provide for; West Oxfordshire District council recently gave a draft allocation to a new Garden Village just north of the A40 at Eynsham for 2200 units and associated infrastructure which has been confirmed as one of the proposals that will receive Government Funding.
'Developers in Oxford have felt the planning system can be particularly restrictive in the city, given that the majority of land for development within the city is brownfield, the costs associated and a policy of 50% affordable housing provision on any site, can cause significant viability issues.'
New retail-led Westgate Centre - Oxford's largest urban extension
Piers Beeton, Development Surveyor at Strutt & Parker Oxford, says:
'The Westgate Centre is currently in the process of a £500m redevelopment as Oxford's largest current urban extension. It is an 800,000 sq ft retail-led mixed used development which will have a 142,000 sq ft flagship John Lewis Store as part of it. It is to become the heart of Oxford with space for shops, restaurants, cafes and leisure facilities. It is due for completion by Christmas 2017 and has already seen major brands taking up shop. The development will be a new piece of the city, distinct in its own right yet wholly integrated into the fabric of Oxford, and will undoubtedly make our city even more attractive for homebuyers and investors.'
Travel key to keeping the county moving
Piers Beeton, Development Surveyor at Strutt & Parker Oxford, says:
'Oxfordshire County Council has recently completed highway upgrade works to the key roundabouts in North Oxford to help relieve traffic issues for future development. Oxfordshire is stretched to the limit in terms of local travel infrastructure, with all of the new development being proposed in the area, infrastructure development will play a key role in keeping the county moving.'
For Sale:
Northmoor Road, located in the North Oxford Victorian Conservation Area. Guide £3.25m.
Chalfont Road is a refurbished and extended 5 bedroom family home in prime Central North Oxford side-road. Guide £2.695m
CAMBRIDGE
What's in store for the rental market?
Sarah Smith, Head of Lettings at Strutt & Parker Cambridge, says:
'There has been a drop in the buy-to-let market as a result of recent government policy changes, seeing more landlords sell as yield margins are squeezed. This could see increased demand for private renting this year, but generally speaking, the University and jobs market here keeps our lettings market robust.'
Residential house prices slowing down but key villages doing well
Michael Houlden, Head of National Estate Agency at Strutt & Parker Cambridge, says:
'House prices in Cambridge continued to grow last year but not at the rates seen in previous years. Growth of approximately 6% took place in 2016, but much of this happened prior to the European Union referendum, after which house price growth slowed significantly. This headline figure also masked variations across different sectors; higher capital growth was seen in period homes and those located close to transport hubs and high-performing schools, whereas lower levels of growth were seen in flats/apartments and new build properties.
'The stagnation in new homes is principally due to policy changes surrounding buy-to-let and the overall unaffordability of property in Cambridge. First time buyers are unable to fill the void left by BTL investors given that the average property price in the city is now over £500,000. That said, it is likely demand will continue as employment opportunities continue to flow into the city.
'There continues to be house price growth in South Cambridgeshire villages too, particularly those close to and/or with good public transport links (particularly rail) to the city, such as Great Shelford, Whittlesford, Foxton, and Shepreth. On the northern side of the city, the imminent arrival of the new Cambridge North railway station (scheduled to open in May this year) has the potential to see house price growth in the city's northern suburbs such as Chesterton, as well as nearby villages on the edge of Cambridge such as Milton and Histon/Impington. The imminent arrival of AstraZeneca (moving its headquarters from Cheshire to Cambridge) and other bio-science and pharmaceutical industries at the Cambridge Biomedical Campus is likely to continue to place pressure on the existing supply, particularly on the southern side of the city in Queen Edith's, Trumpington, and Newnham, as well as the inner network of villages such as Foxton, the Shelfords, and Whittlesford.'
Students helping the city churn
Sarah Smith, Head of Lettings at Strutt & Parker Cambridge, says:
'The high proportion of students from Cambridge University and Anglia Ruskin University, are supplemented by a large number of language students and other students at local further education and higher education colleges in the city. Although many are catered for by dedicated student accommodation, we see parents and overseas investors use education as good excuse to dip into the BTL market. Relatives staying over keep hotels and restaurants packed. The redevelopment of the Cambridge Arms Hotel and the opening of a new 4-star hotel, the Tamburlaine, on Station Road near Cambridge railway station, is a direct response to the lack of beds – many businesses are seizing this opportunity.'
Paul Sutton, Head of Planning at Strutt & Parker Cambridge, says:
'There is a structural lack of supply resulting from decades of under-investment and house building failing to meet demand. The build out rates have significantly increased in recent years but there continues to be a massive shortage of housing in the area. This has been caused by a number of long-term factors that include the cessation of council house building accompanied by the simultaneous introduction of the 'right to buy' since the early 1980s. Additionally the presence of the Green Belt surrounding the city has restricted growth, albeit there have been some significant releases in recent years. While house building rates have increased in recent years, they still fail to meet up with increasing demand, and affordability remains a huge issue for first time buyers and those on low and middle incomes.'
New Investment partnership launched to redevelop council-owned land
Adam Davies, from Strutt & Parker's Planning & Development team in Cambridge, says:
'New developments in and around the city include Trumpington Phase 2, a new town at Northstowe, North West Cambridge being led by Cambridge University, and further extensions to Cambourne.
'Cambridge City Council recently teamed up with Hill Investment Partnerships to form a new investment company to tackle affordable homes shortages in the city. It will fund the redevelopment of council-owned land to provide much-needed housing and the partnership is likely to provide a range of housing, both market and affordable. This has been embedded by the recent appointment of a new Joint Director of Planning & Economic Development, Stephen Kelly leading both Cambridge's and South Cambridgeshire's planning departments, furthering partnerships between the two local authorities.'
Devolution deal to give Cambridge City Council £70million grant for affordable homes
Iain Halls, Head of Planning & Development at Strutt & Parker Cambridge, says:
'As part of the Cambridgeshire & Peterborough devolution deal this year, Cambridge City Council has been given a £70million grant to help deliver affordable homes in the city and a directly elected mayor will oversee infrastructure and housing spend across the county. There may be pressure from the mayor's office for retaining a proportion of tax revenues raised by business in the City for direct reinvestment in a local housing fund to deliver affordable homes. The benefit being more revenues raised by more housing through Council Tax and corporation tax as business grow and are attracted to the City. The net effect for the exchequer being positive over time.'
East West rail link - connecting Cambridge to Bedford, Milton Keynes and Oxford
William Nichols, from Strutt & Parker's Planning & Development team in Cambridge, says:
'There will not only be faster rail links between our two cities, but also a plethora of other rail opportunities that are not currently possible, providing interchange on many of the radial rail routes out of London. The reopening of this East-West route will immediately connect Cambridge with Bedford, Milton Keynes and Oxford, as well as providing faster routes to longer-distance destinations like Bristol, Birmingham, Cardiff and Manchester. This in turn may help to reduce overcrowding and free up much-needed capacity on key routes into London. Passengers from Cambridge travelling to southern Central England and the South West will now have a realistic route that avoids London.
'As well as the new Cambridge North station, this year will see the upgrade works to the A14 continue, which seeks to reduce congestion on this busy east-west Trunk Road linking Cambridge with the Midlands. Other proposed transport projects include a proposed busway from Cambourne to West Cambridge, alongside an upgraded A428/A421 expressway, and a possible new railway station provisionally known as 'Cambridge South' adjacent to the Biomedical Campus.'
FOR SALE:
Beech House sits at the head of established gardens in this prime Cambridge city location. Guide £1.75m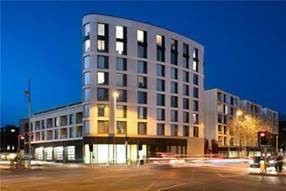 Parkside Place offers sleek city living with panoramic views. Guide £1.795m