 Strutt & Parker is delighted to have sponsored the 2016 Rural Entrepreneurship Conference, hosted by the Lincoln International Business School this week.
It continues the relationship between the firm and the University of Lincoln as Dr Jason Beedell, who leads our rural research, has been a visiting fellow at the university for the past five years.

The firm is continuing to develop its links with universities and other research bodies. This enables us to take the latest thinking, approaches and technology and use it when advising our clients, so they benefit from it.
The Conference had a number of themes, on which papers were presented and discussed by researchers from around the world. They include entrepreneurship, farming, the natural environment and tourism; farm tourism policy and development; social entrepreneurship; the opportunities and challenges for rural services; international entrepreneurship; and, technology and innovation in the rural economy.
Strutt & Parker sponsored a prize for the best PhD paper at the Conference, which was awarded to Ron Methorst of Wageningen University in the Netherlands.
Ron studied a group of 102 Dutch dairy farmers from the island of Kampereiland (Island of Kampen), to the east of Amsterdam. The benefit of studying them was that they all had the same landlord – the local town of Kampen – and had exactly the same farming and environmental situation to deal with. So his question was, why have similar farmers facing the same circumstances developed their farms so differently? His paper looked at the importance of different factors in influencing how a farmer develops his or her farm.
He identified three patterns of farm development in the dairy farmers:
Milk Max: these farmers aimed to maximise total milk production, using high levels of inputs to create high outputs. Dairy farming is seen as a technical process guided by financial parameters.
Milk Balance: these farmers aimed to optimise total milk production within the limits of feed produced on own land using limited additional inputs to optimise milk production. Dairy farming is seen as producing dairy while accepting the natural limitations in available resources.
Milk Plus: these farmers were open to other sources of income from on-farm activities (e.g. care, recreation and nature) next to a Milk Balance strategy. The organisation of the farm aims to reduce the pressure on operational management allowing the farmer to invest time and energy on other on-farm activities.
Ron found that personal views and preferences are important in shaping the development pattern of farms, but so too are the farmers' relationships with (i) value chains – so how they want to sell their products, (ii) how they view themselves socially and culturally, and (iii) their views on farming and natural resources. He called this 'three-fold embeddedness'.
One of the practical implications of Ron's research is that it gives policy makers a greater understanding of how farms develop and their different motivations. This may help design more appropriate support programmes for farm development.
Our congratulations to Ron for taking a simple idea, using a clever and sophisticated technique to study it and produce results that will have important practical implications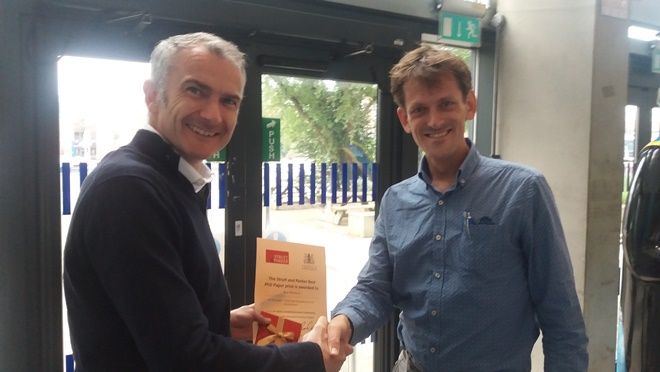 Ron Methorst (Univesity of Wageningen Netherlands) presented best PHD paper
by Jason Beedell of Strutt & Parker