Substantial expansion in the serviced office sector since 2010 has put WeWork and other operators at the forefront of discussions on the future of the office market.
The growth in the serviced office sector comes down to ease and cost for tenants seeking flexible workspace, and it is likely that in the coming years we will see this trend continue. Although serviced office operators have traditionally catered towards start-ups, a number of major industry players have recently taken large amounts of serviced office space including Dell, KPMG, Compass and Red Bull.
Serviced Office Statistics
Serviced office take-up in Central London rose 600% between 2010 and 2015, peaking at 1.4 million sq ft, of which 558,000 sq ft was acquired by WeWork and 311,000 sq ft to The Office Group. Although 2016 saw a slight drop in take-up, decreasing to 853,000 sq ft; 2017 has already exceeded the 2016 total with take-up currently totalling 918,000 sq ft of which 561,000 sq ft was WeWork.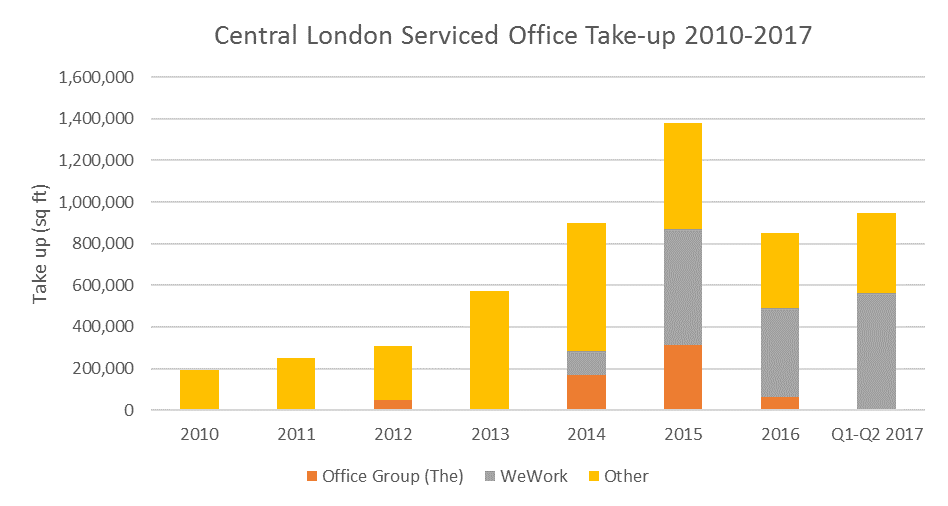 WeWork are currently taking more space than any other occupier in the market. In Q2 2017, WeWork further increased its portfolio of office locations taking the entirety of Two Southbank Place in the second largest prelet so far this year (283,450 sq ft), along with 140,000 sq ft at 125 Shaftesbury Avenue. The two lettings made up around 14% of take-up in the quarter. WeWork opened its first London centre in Q1 2014 at Sea Containers House, SE1, taking 40,412 sq ft and, from 2014 to 2015 the space occupied by WeWork grew 394%. Since the end of Q2 2017, WeWork has taken around 250,000 sq ft at The Stage development in Shoreditch, taking the scheme to fully let two years prior to completion.
Serviced office take-up is strongest in the West End and City Core. According to Strutt & Parker research, serviced office take-up from the City Core market made up 33% of all serviced office take-up in Central London from 2010 to 2017 with West End serviced office take-up making up 29%.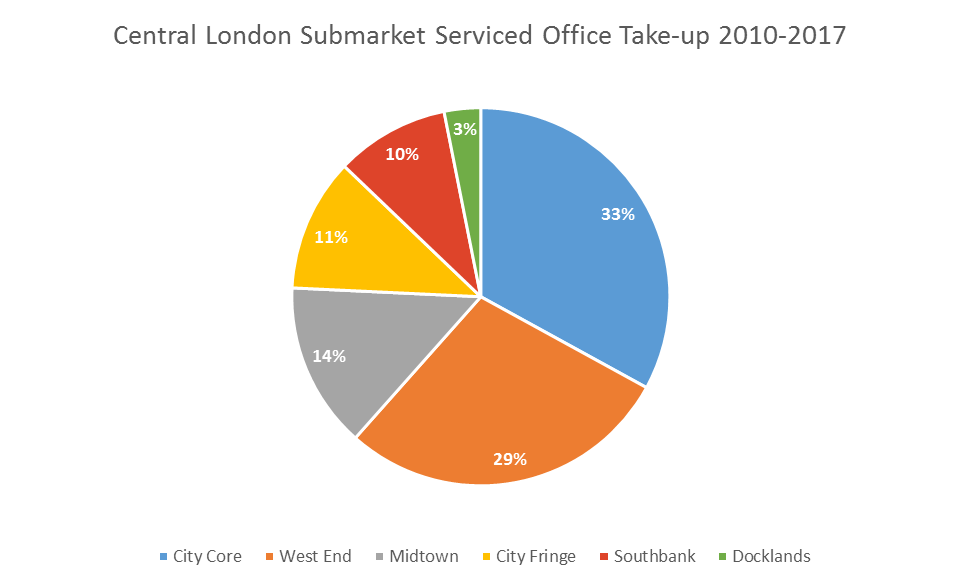 Flexibility
But what has driven the unmistakeable rise in serviced office operators in the city? Often, the key reason why occupiers choose to take space with serviced office occupiers is the flexibility offered. With smaller organisations who are not yet fully established, serviced offices can provide a solution to occupy space in good quality locations but on a less restrictive lease term.
Furthermore, for less established organisations, serviced offices also provide tenants with the option to expand or shrink their operations easily. This applies to larger organisations too to some extent. With the rise in flexible working driven by the rise in mobile and information technologies, larger companies often find themselves with surplus, or 'grey', space highlighting a mismatch between the volatile business cycle and fixed leasing model. Indeed, recent research has shown a rise in availability offered on a sublease or assignment basis suggesting occupiers to be offloading any unused space they may have. With serviced offices, space wastage is significantly reduced as offices are taken on a desk-by-desk and shorter term basis.
Although the majority of occupiers in serviced offices are small to medium-sized companies, where larger companies require additional space for projects or confidential work, serviced offices can provide a solution whereby they can take small amounts of space over a short period of time.
Cost
Serviced offices are often costlier on a sq ft basis, especially in the long term. Although serviced offices offer the clear advantage of flexibility, the cost may help to ensure traditional office space remains common. Start-ups or smaller companies may be prepared to pay a higher cost in order to have the flexibility; and more established companies who do not need the flexibility will pay lower costs and for larger companies, it is likely to be more cost effective to acquire a traditional lease over the medium to long term.
There are however a couple of arguments in favour of serviced offices being cheaper than their counterpart. Firstly, a serviced office tenant will usually pay one fee, where with traditional leases, a tenant is required to pay additional charges such as fit out costs on top of the rental payment. Where a tenant occupies space for a short period of time, this provides a more cost effective solution and reduces hassle. Secondly, serviced offices also offer the potential to cater for a fixed number of people without the need for additional extras such as kitchens and reception areas. At WeWork's Moor Place, density is currently 53 sq ft per person which is more than double the standard density for London, this reduces the overall rent for the space for the same number of staff.
Lease accounting standards will be put into place in 2019 which will require operating leases to be defined in the same way as finance leases for companies operating under the FASB. Under the current operating lease framework, lease transactions are treated as expenses and are not reflected in the lessee's balance sheet where finance leases are. The new standards are likely to have significant impacts on office leasing. The changes may cause a number of occupiers to reconsider their options for office space and are likely to request shorter leases or more variable lease terms, or may wish to explore alternatives such as serviced offices which are not covered by the new standards. It is important to note that such standards are likely to have an impact on investors with changing lessee behaviour affecting the economics of the lease as well as pricing. Where lessees become better positioned, cash flow volatility and risk may increase, affecting the overall investment performance.
Branding
As a final consideration, serviced offices do not offer the branding and personalisation of traditional space with tenants unable to make the space their own, the fit out is usually that of the operator rather than the tenant. Serviced offices are not a permanent solution and the space is felt as such. Furthermore, although sharing certain elements such as kitchens or meeting rooms offers cost savings, this may affect an established company's image and certain spaces may not be available when needed if shared with other tenants.
In Mayfair and St James's, the traditional heartland of boutique investment and finance companies, Strutt & Parker has observed many smaller occupiers still insisting on acquiring a traditional lease rather than a serviced office as they often wish to avoid being seen as 'transient' to investors. This unique submarket of London is one of the few which serviced office giant WeWork has yet to grow into. It may be that we see serviced office operators offering more 'white box' solutions to enable occupiers to put their own brand on the space in the future.
Conclusion
The serviced office sector has grown considerably since the first London centre opened seven years ago. The clear attraction flexible offices provide, including the ability to be flexible and save on costs, will affect the office leasing and investment market considerably. With minor and major occupiers, at least in part, considering less traditional space, investors will need to change the way their buildings, and space, are marketed. This may include such changes as shortening lease lengths, increasing incentives, or acting more as 'service providers' rather than simply 'space providers'. Landlords wishing to embrace this trend are now also viewing a letting to a serviced office operator less as a 'last resort' and more as an added amenity for larger occupiers already in the building.
With the recent news that British Land is setting up its own flexible office brand, and with John Lewis announcing its plan to use surplus space for flexible offices, the office market as a whole is likely to change considerably in the years to come.