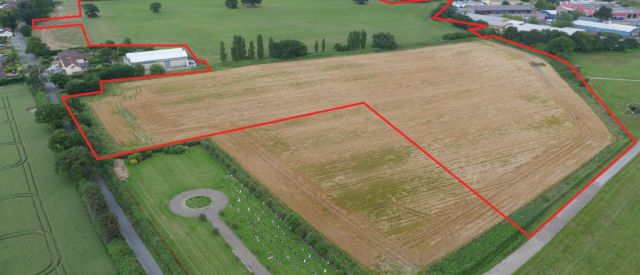 Old Catton Norwich NR6
Price On Application
Residential Development Land
Associate Director, Development & Planning
Cambridge
Download brochure
Norwich is one of East Anglia's most important commercial centres with a catchment population of approximately 213,000. There are good road links to the A11, providing access to Cambridge and the A14, and the A47 to King's Lynn and Great Yarmouth. The Northern Distributor Road, currently under construction, lies just to the north of the site. Mainline Rail services are available to London Liverpool Street, Cambridge and the wider rail network. Norwich International Airport provides a KLM feeder hub to Schiphol, as well as offering a variety of domestic flights and helicopter services. The site is located to the North of Norwich, approximately 3.3 miles from the City centre. Repton Avenue runs along the Southern boundary and St Faiths Road to the Eastern boundary.
An opportunity to acquire a residential development site with the benefit of an Outline Planning Consent for 340no Residential Dwellings with the option of implementing 5,640m2 of small business units.
- The overall site extends to 15.15 ha (37.43 acres) - Outline planning permission granted - S106 Agreement signed - Information and Legal Pack available upon request - Site to be sold by Informal Tender - 33% Affordable Housing - 2.05 acres has been transferred to Old Catton Parish Council for use of an extension of the cemetery (Area A on site plan). 2.12 acres will be sold separately to the main development for 12 self-build units (Area B on site plan).
The land offered for sale extends to approximately 13.46 ha (33.26 acres) and is situated on the northern fringe of the popular suburb of Old Catton, to the north of the City of Norwich. The site is currently open arable land situated on the edge of Old Catton village. It is situated to the west of St Faiths Road and immediately adjacent to the south-eastern edge of Norwich International airport. The site is broadly level in nature, with some mature hedgerows and trees. Old Catton is a well serviced village and has a good range of services and facilities including regular bus service, nursery and primary schools, parish church, convenience stores and a larger supermarket, medical practise, dental surgery, veterinary surgery and two public houses. There are good road links to Norwich city centre and outer ring road which provides access to the wider national road network via the A140, A11 and A47.
Outline planning permission dated 18th May 2016, reference number: 20141955, has been granted by Broadland District Council for a residential development of up to 340no dwelling with the option of 5,640m² of small business units with associated car parking, infrastructure and public open space provision. A Section 106 Agreement has been signed by the relevant parties and the Decision Notice has been issued dated 18th May 2016. The site lies within Broadland District Council CIL Band A, which will be calculated at the current rate of £91.74/m² for Open Market dwellings (use class C3 & C4), including domestic garages, but excluding Affordable Housing and shared user/ decked garaging.
Salient points within the planning application and S106 Agreement include:
- Application for reserved matters amounting to at least 150 units to be submitted by 18th May 2019. - The commercial element of the planning permission is not compulsory and does not need to be implemented as part of the permission. - No more than 150 dwellings shall be occupied until the Northern Distributor Road is opened to traffic. - Works have begun and are due to be completed and open to traffic early 2018. - Affordable Housing contribution of 33% (112no dwellings) - 75% of these to be designated as Affordable Rented dwellings - 25% to be Intermediate Housing - 40% of the Affordable Houses to be 1 bedroom dwellings - 30% to be 2 bedroom dwellings - 25% to be 3 bedroom dwellings - 5% to be 4 bedroom dwellings Note. Or an alternative mix to be agreed.
There is a detailed matrix within the S106 defining the financial contributions for the various designated Public Open Space requirements, including Children's Play Space, Formal Recreational Space, Green Infrastructure and Allotments. There is also a requirement for a Travel Plan and a formula contained within the S106 to calculate the financial contribution on a £/dwelling basis.
The following technical reports have been undertaken: - Ecology Desktop - Flood Risk Assessment - Landscape Strategy - Noise Assessment - Transport Assessment - Aboricultural Report Note we are instructed to sell the land on an unconditional basis and therefore we advise any interested parties to carry out their own investigations with Broadland District Council. The Case Officer, Mr Ben Burgess has indicated to us that he would be happy to discuss any enquiries or questions relating to the site with interested parties:
Ben Burgess Broadland District Council Thorpe Lodge 1 Yarmouth Road Thorpe St Andrew Norwich, NR7 0DU Tel: 01603 430625 Email: ben.burgess@broadland.gov.uk
Prospective purchasers are advised to make their own enquiries with the relevant service providers.
The site is to be sold freehold with vacant possession on completion.
The site is not elected for VAT but the vendor reserves the right to opt for tax.
Offers invited for the Freehold interest
All bids should take into consideration and include overage proposals. This can be seen in the information pack.
An Information Pack containing Technical Reports, Planning Documents, Legal Pack, Sales Summary and Bidding Guidelines is available upon request.
Viewing strictly by appointment through Strutt & Parker LLP.
This property has 37.43 acres of land.
This plan is for layout guidance only. Not drawn to scale unless stated. Windows and door openings are approximate. Whilst every care is taken in the preparation of the plan, please check all dimensions, shapes and compass bearings before making any decisions reliant upon them.