residential
Interior Design
Renting
Rental Property
Strutt & Parker in conversation with Andrew Martin
Our homes are our sanctuaries, but it can be difficult to see how to make a space your own if you're renting. We sat down with Martin Waller, founder of global design house, Andrew Martin for his top interior tips on how to create your true home in a rental property:
How do I make a rental property feel like a home?
Don't let the limitations of a rental property become a frustration. This is an opportunity to be inventive and creative. Ultimately, your home should be a reflection of you and your personality. Here are my top recommendations that will ensure you always feel at home:
Starting point
Keep your design brief 'eclectic' to incorporate everything you love, whether that be family photos, artwork, or other vintage or treasured pieces. I personally view the world as a voracious source of inspiration with a myriad of exciting treasures.
It is these final accents that make a space yours and give it your personality. Much like jewellery or cufflinks to an outfit.
The right furniture
One of the most important things to get right is to invest in the right furniture that will see you from one home to the next. Be creative in bringing your own sense of character and style to ensure a space feels like yours.When renting, your money is best spent on the things that you can take with you to your next home so, where possible, look for pieces crafted from high-quality, long-lasting materials, and avoid built-in bespoke solutions
Size matters
With furniture, avoid oversized or bulky pieces that may be difficult to move or may not fit in smaller rooms. Modular furniture is a great option as it can adapt to the ever-changing needs of a space. A sectional sofa, for example, can be assembled to conceal a challenging nook, maximising the use of space whilst providing a comfortable seating solution.
Lighting
Lighting is one of the most important elements of interior design - especially in a rental property. It can completely transform the look and feel of a room. Layer lighting sources to create a flexible, versatile yet cosy living space. Opt for dramatic pendants as your main source of light and pair with statement table lamps to create an atmospheric mood. If your rental has wall lights, see if you can add your own shades to add personality, or use them to highlight interesting features in the room, such as art or artefacts. Structural shapes, interesting textures or coloured glass can make a style statement, even when the lighting is switched off.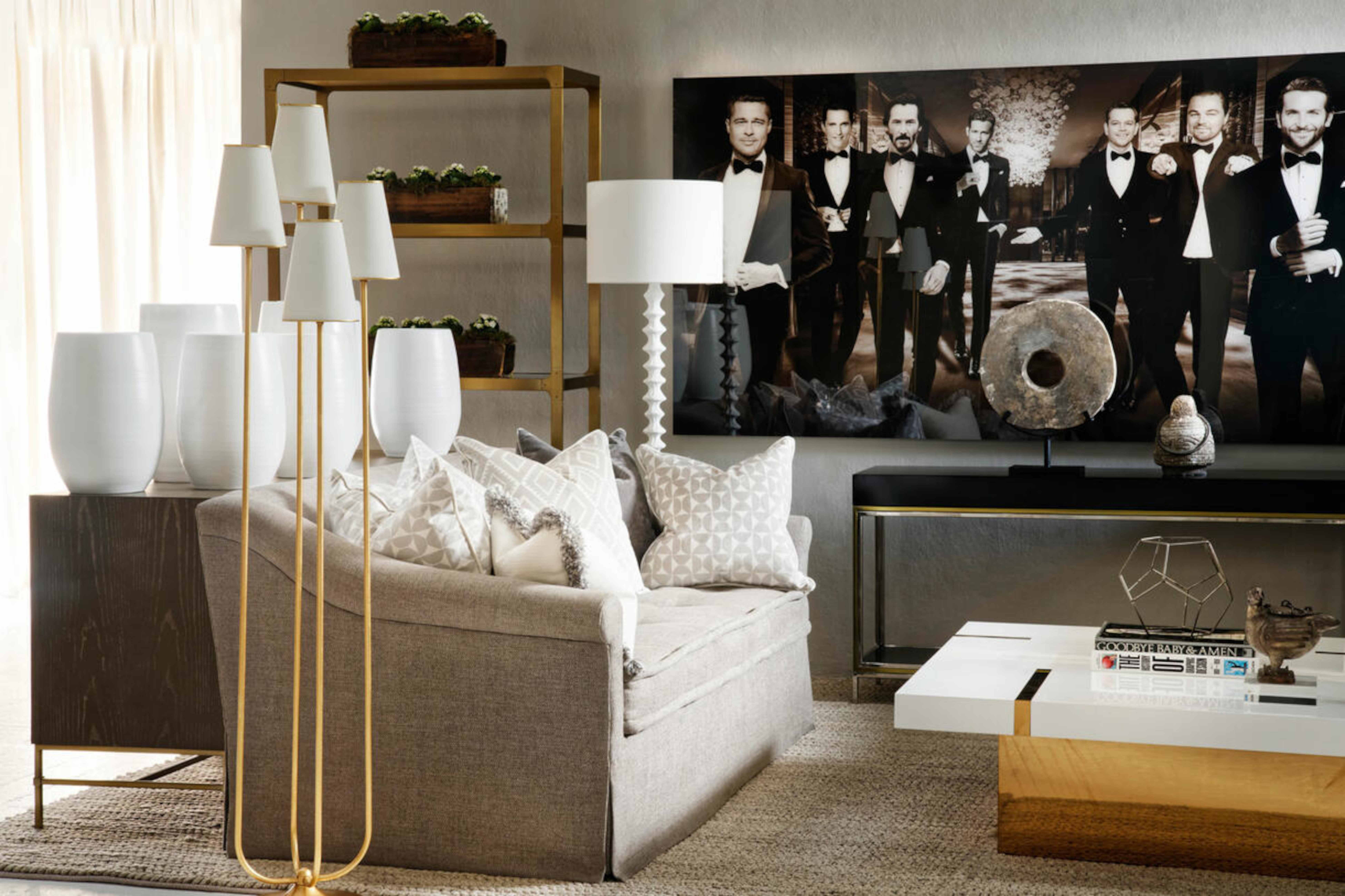 Credit: Andrew Martin
Aesthetics
Choose classic styles which are by their very nature timeless and can work well in different kinds of properties. Neutral colours provide a fresh and flexible backdrop which can be easily updated with more colourful accessories like cushions and throws. Combine different patterns to make a strong style statement, but to avoid overwhelming a room mix large scale pattern with smaller scale prints. Alternatively, if you're not feeling as daring, choose cushions with piping in a contrasting shade as these little details draw the eye.
Outdoor spaces
We see outdoor spaces as an extension of your indoor interior aesthetic and that has only been re-emphasised this year, with more and more product types available for both indoor and outdoor use – from rugs, to cushions to furniture. With this in mind, opt for outdoor styles that fit in with the overall look and feel inside your home, for connectedness.
Comfortable seating is a top priority which requires pieces big enough to lounge on however many guests you are entertaining. A mix of both sofas and chairs is key to making sure everyone gets a seat, extra depth means these remain relaxing even with lots of people, and an array of outdoor cushions are essential for both comfort and providing additional seating when necessary.
Permanent interior changes
At Andrew Martin, we adore Maximalism. More is always more, regardless of the property, in our opinion! And this can mean bold wallpapers, which isn't always possible in a rental home. There are however lots of clever solutions to achieve that multi-layered maximalist look.. For example, you could use bold and colourful accessories like cushions, throws and rugs, to add interest and excitement without making permanent changes. If you're unable to wallpaper or paint the entire space, consider creating a gallery wall with a curated selection of personal art that you can transport to your next home with ease. Plants are also an easy and cost-effective way to add life to any space plus they also provide additional health benefits, a win-win!
Explore Andrew Martin's interiors here, and if you're looking for a new home to rent, we've picked five properties available to let now.
Header – Credit: Andrew Martin
---
You may also like...