residential
country house
Farm
Estate
The beauty of Britain's palatial estates
When you think of the British countryside, images of rolling hills, rows of pretty chocolate box cottages and livestock dotted across landscapes spring to mind. We are fortunate to have the kind of pastoral beauty which has been immortalised over the years by poets and writers. But, perhaps, one of the most iconic parts of our landscapes is the country estate. After all, they are so intrinsically wrapped in our history.
Monarchs and nobility have long been linked to these magnificent residences. In fact, it was King Henry VIII in Tudor England who first really put them on the map. At a time of relative social stability and the dissolution of the monasteries, there was an upsurge in the popularity of the country house. Henry VIII rewarded many loyal members of his court with vast country piles and plenty of acres.
Even now, many are still tied to our monarchy. As we look towards the start of the Coronation this week, Buckingham Palace aside, our mind wanders to the likes of the Sandringham Estate in Norfolk or Balmoral Castle in Scotland. Two great estates that have played host to some of Britain's most historic moments. But, not all of them in Britain now belong to just the nobility. Many more of us have wanted our very own slice of the country.
Over the years, our National Estates & Farm Agency team have had the privilege of selling some of this nation's finest estates. Here are some of their favourites, both past and present:
This beautiful estate in the heart of Kent countryside is everything an English estate should be. Linton Park stands proud amongst its 440 acres, with a Grade I listed house, Grade II* listed gardens, a lake, a cricket pitch, 16 further residential properties and acres of woodland and parkland.
Mark McAndrew, Head of National Estates & Farm Agency and selling agent, has described it as 'a jewel in the heart of the Garden of England' and we don't disagree. It is not often estates as spectacular as this to come to the market.
Groombridge Place, Kent
Groombridge Place is an estate that has been sold by our National Estates & Farm Agency team four times over the past twenty years. Two out of the four times was the same buyer.
We can see why too. Built on the site of a medieval castle with a moat and its very own connections to royalty, it is as quintessentially English as it gets. Its setting is as similarly impressive, standing astride the Kent and Sussex border on the edge of the beautiful old village of Groombridge.
The Bantham Estate, Devon
Why stop at just a country pile when you can buy an entire village? In 2014, one of the most romantic villages located on the coast in the South Hams came to the market through our National Estates & Farm Agency team. The Bantham Estate had been in the same family since 1922 and they had gone to great lengths to keep it as unspoilt as possible.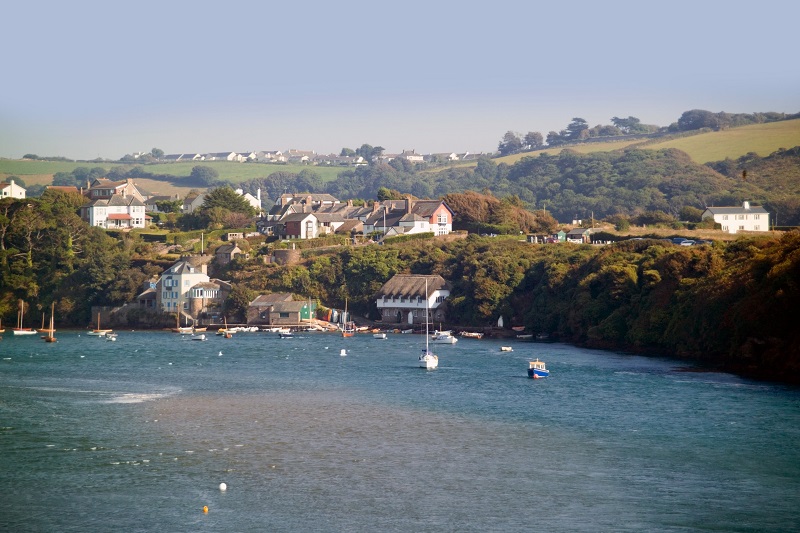 It had 21 residential village properties, two substantial farmhouses, a golf course, 589 acres of agricultural land, several boat houses and even the estuary which was leased from the Prince of Wales' estate. It has all the components to make you feel the King or Queen of your very own land.
Auchendennan House, Dunbartonshire
Rugged scenery, turretted castles and acres of woodland. There's nowhere in the world that has more examples of palatial estates than Scotland. Robert McCulloch, Head of Estates & Farm Agency in Scotland, has never been short of them either – and Auchendennan House was no exception.
The architecture of this four-storey 15 bedroom home is just the start of its beauty - if you take a look inside, it is full of grand fireplaces and wood panelling. It forms a perfect example of a Scottish Baronial castle.
Mawley Hall, Worcestershire
When Mawley came to the market in 2017, for the first time in a half century, it was described as 'nothing less than one of Britain's finest privately-owned stately homes.' Its sale attracted attention from far and wide and goes down in the history books for the team.
Although the property was built for the Blount family in the 18th century in modest red brick, no expense was spared on the interior, with the stucco hall being one of the finest examples in the world. The imposing Palladian mansion is also surrounded by 550 acres of gardens, parkland and farmland which only adds to its grandeur.
Find out more about our Estates & Farm Agency team here: Rural Property Estates, Farm & Land | Strutt & Parker (struttandparker.com)
---
You may also like...