Inspire
Home of original thinking
Is the UK's housing crisis restricting business growth?
Words by Doug Morrison

If the lack of affordable housing has become one of the defining challenges for young professionals, it is also emerging as a significant impediment to the growth of their employers.
New research from Strutt & Parker reveals that the housing crisis is moving up the boardroom agenda and is now a serious concern in companies across the country.
'We asked 1,000 company owners and executives about the impact of housing on their business and they issued a stark warning,' says Stephanie McMahon, Head of Research of Strutt & Parker's parent company, BNP Paribas Real Estate. 'When it comes to employing staff, high housing costs are restricting growth and profitability.'

The headline findings are certainly eye-catching. Three-quarters of respondents believe that high housing costs are having a negative effect on their business, and over half have lost staff because employees either cannot afford to live in the area or are unwilling to commute.
'It's an issue that directly affects the ability of businesses to expand,' explains Stephanie. 'According to the respondents in our survey, high housing costs are responsible for a lack of skilled workers applying for jobs and slower expansion due to unfilled positions.'
It's a concern shared by Centre for Cities, an organisation dedicated to improving the economic performance of UK cities. It believes that housing affordability is now one of the key challenges faced by business.
'The housing crisis doesn't just affect individuals,' says Anthony Breach, an analyst at the think tank. 'Businesses in the most productive cities are increasingly concerned about its impact.
'Expensive housing makes it difficult for firms to access the workforce they need, particularly at the entry-level end of the jobs market.'
Anthony is also concerned about the wider effect on the national economy.
'If people find it too expensive to move to the most productive and highest-paying cities, they will instead choose to live in areas that have lower housing costs and lower wages,' he says. 'This limits household spending and living standards.'
Strutt & Parker's survey reveals that the issue of housing affordability has spread right across the country, extending far beyond London. It is now so serious that nearly three quarters of companies would consider relocating to an area with more affordable housing.
But some businesses are contemplating an even more radical solution. In one of the most dramatic findings of the research, 71% of respondents are either actively considering investing in residential areas for their employees or are thinking about doing so in the future.

This might sound like an extreme measure, but there is a strong historical precedent for corporate housing. Most famously, Cadbury built homes for Bournville factory workers in the 19th century.
The modern-day equivalent of this industrial paternalism is to be found not in Birmingham but in San Francisco, where Facebook and Google have announced plans to build affordable housing for their tech workers struggling with sky-high prices in the Bay Area.
In the UK, employers are already finding alternative ways of responding to the housing crisis. For example, Deloitte has negotiated preferential terms for its graduate intake at the East Village, London's first large-scale Build to Rent (BTR) housing development, located next to the Queen Elizabeth Olympic Park.
Around 100 recruits move in to the complex each year. They benefit from the ability to reserve an apartment up to eight weeks prior to moving in without any deposit, as well as receiving two weeks' rent-free accommodation each year.
'We don't want to create an environment purely for our employees – that wouldn't be in anybody's interests,' says James Ferguson, Partner at Deloitte UK. 'People want to live where they want to live, and if we can provide something that helps, then that's great.'
Although he doesn't believe his firm would currently consider owning residential property to accommodate its employees, James can see ways in which businesses and housing providers can work together.
'There is an opportunity for BTR developers,' he explains. 'To support the viability of a major development, a major employer like Deloitte could look at taking a long-term lease on a block of units, which would give the financiers some confidence in financing the project.'
Even if it doesn't involve directly investing in housing, the UK's competitive jobs market means that employers are having to look at a range of options to attract and retain staff. Jeremy Langridge, who specialises in Occupier Solutions at BNP Paribas Real Estate, has noticed a greater willingness to support employees.
'When I'm speaking to clients, the wellness offering for staff is a big part of their agenda,' he says. 'One element of this is looking at ways to make it easier for employees to get to work, whether that's improving transport access or flexible working.
'All businesses are having to engage with the issues faced by their employees, which include longer travelling times due to high housing costs, to ensure they attract the best talent and retain those they have already.'
There is something else that unites business leaders: the need for greater government support, both national and local. Nearly half of the respondents in the survey believe a policy of building affordable new housing in the area around their business would help them recruit and retain staff. There are also calls for a policy on affordable rents (35% of respondents) and investment in public transport (30%).
'Anybody would recognise that, in major cities around the world, the inability to provide housing that people can afford is probably one of the biggest risks to global competitiveness,' says BNP Paribas Real Estate's Stephanie McMahon. 'You can improve infrastructure and rely on people to commute for longer, but it's a little like putting a sticking plaster on the problem.'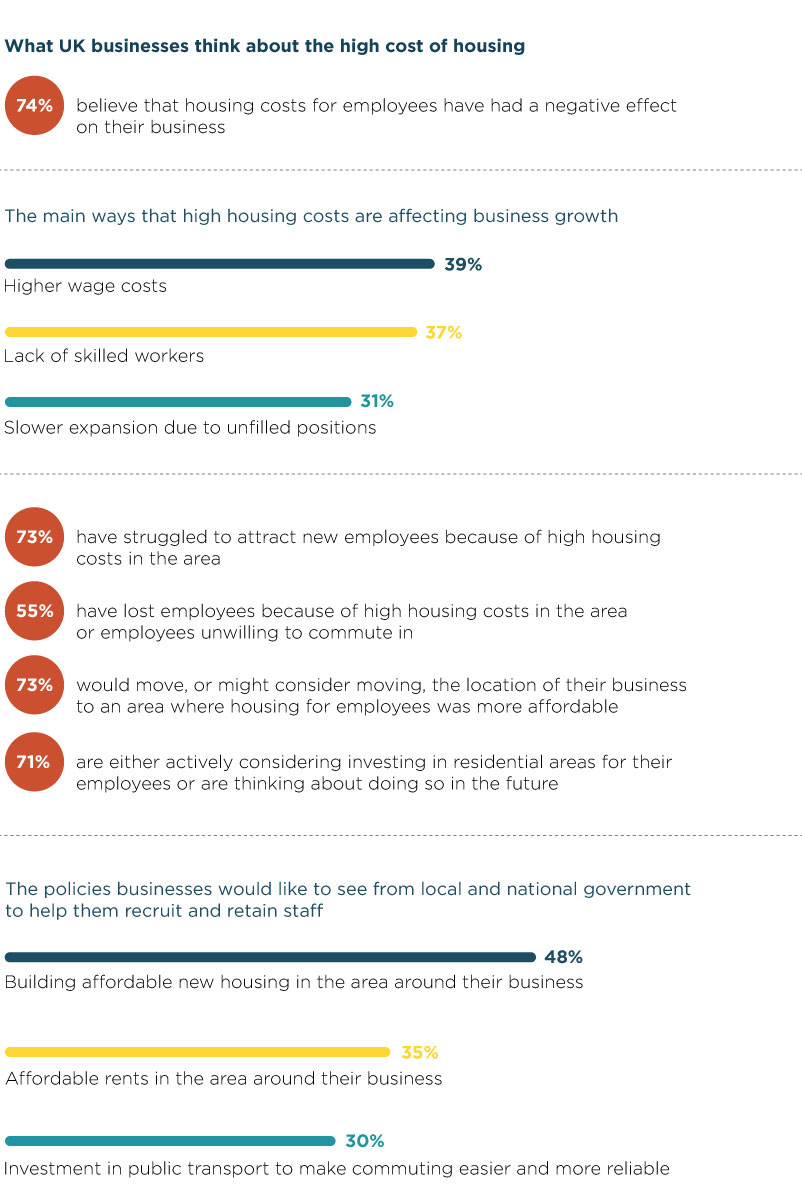 Source: online survey conducted by Atomik Research among 1,002 UK C-Level executives and business owners during 1-6 November 2018
---
You may also like...