The top beauty spots for homebuyers
Words by Fred Redwood
It's easy to see the appeal of England's Areas of Outstanding Natural Beauty (AONBs). Their peaceful landscapes and relaxed lifestyles are the perfect antidote to urban living.
But which of these beauty spots is most popular with homebuyers? To find out, Strutt & Parker has taken an in-depth look at the property markets in each area. By comparing how long it takes to sell a home, the number of property searches on Rightmove and price changes over the past five years, we have come up with a definitive ranking of all 33 AONBs in England.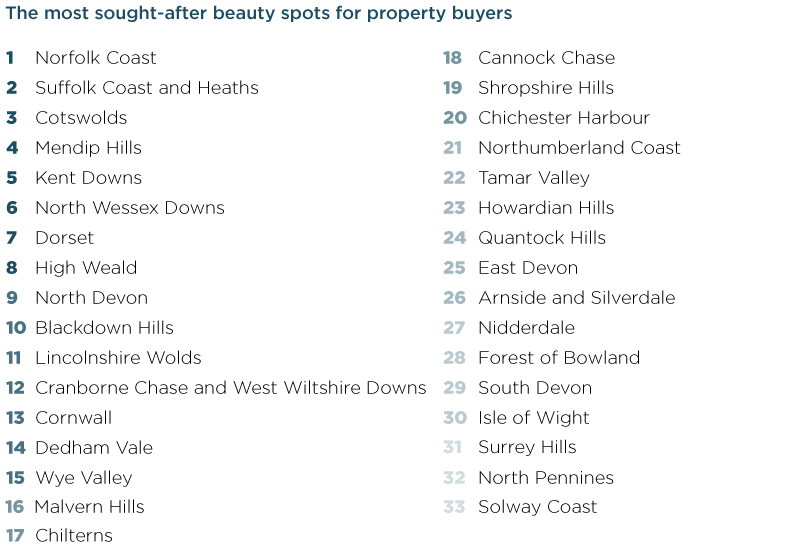 The Norfolk Coast takes the number one spot for property buyers, which is no surprise to Tom Goodley of Strutt & Parker's Norwich office.
'There is something quite magical about the area, where the saltmarshes run down to the sand dunes and the beaches beyond,' he explains. 'It's perfect for long blustery walks in the winter and old-fashioned bucket-and-spade holidays in the summer. Add to that excellent golf, fishing and seafood, and it's not difficult to see why people want to live here.'
Tom estimates that a house in one of Norfolk's best-known villages, such as Burnham Market or Brancaster, can attract a price premium of 20% compared with surrounding areas. He also believes that accessibility is a key part of the appeal for homebuyers.
'North Norfolk is now only a three-hour drive from London thanks to the upgrade of the A11,' he says. 'That makes having a family home here but working regularly in London far more feasible'.
The same can be said for the Suffolk Coast, which just missed out on the top spot. Driving times from the highly sought-after town of Aldeburgh to London are a nippy two hours and 20 minutes, according to the AA. This perhaps explains why this part of Suffolk has seen a bigger five-year jump in property prices than any other AONB.
The combination of unspoilt surroundings and easy access to London lies behind the appeal of many of the AONBs. This is certainly true of the Cotswolds, which is our third most sought-after area.
Direct trains to London from its popular towns, such as Moreton-in-Marsh, make it the perfect location for homeowners who want to spend a few days in the capital during the week, before donning Barbour jackets and Hunter boots and becoming country folk at the weekend.
Buyers are drawn by the beautiful honey-coloured houses and equally attractive lifestyle, which includes gastropubs such as The Plough at Kingham, relaxation at the chic Soho Farmhouse and Daylesford Organic's award-winning farm shop. The fact that Kate Moss, Jeremy Clarkson and the Beckhams – the core of the Chipping Norton set – own properties in the area only adds to the appeal.
Less starry but still highly sought-after is the Kent Downs, which is right behind the Cotswolds in the popularity stakes. It is perhaps the most accessible of all the AONBs with 40 train stations either within the area or on its borders.
So, it's not surprising that the attractive landscape of rolling chalk hills, areas of woodland and pretty villages appeals to buyers who need to commute daily to London. The journey from Ashford, on the edge of the Kent Downs, to King's Cross only takes 49 minutes, making this the ideal spot for any London-based executive.
The growing interest in the area from buyers is reflected in property prices, which have risen 32.1% over the past five years – beating the national average of 28.4%.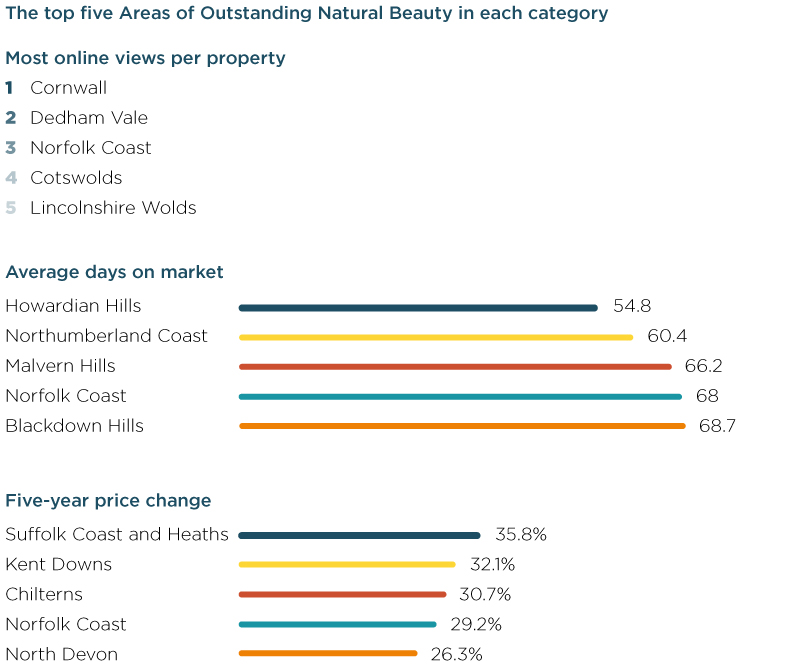 Although accessibility is important, Strutt & Parker's research reveals another key factor when it comes to the most desirable locations – homes that are near water.
'A water view, whether it's of a river or the sea, is top of the list for many property buyers,' says Richard Speedy of Strutt & Parker's Waterside department. 'I often meet buyers who want to sell a Thames-side home and move to a house overlooking the sea in Devon or Cornwall.'
According to Richard, there is a premium to be paid for a waterside location that varies on a sliding scale.
'A sea view commands a 10% premium, while having direct access to an estuary may increase a property's value by perhaps 50%,' he explains. 'But having a pontoon that leads to a deep-water mooring at the end of your garden could make a home 100% more expensive than an equivalent property inland.'
As well as the appeal of beautiful surroundings, the popularity of some areas is simply down to economic trends. For example, there has been much talk recently of the upturn in the North Yorkshire 'golden triangle' of Leeds, York and Harrogate.
So many wealthy people now live here that Rolls-Royce is opening a dealership in Leeds. Many new buyers are people with Yorkshire roots who are returning to the region from London.
This explains the attraction of the Howardian Hills, a gorgeous area in the golden triangle popular with high fliers. Last year, homes here sold on average in 54.8 days, which is faster than in any other AONB.
Even tiny details can tell us a lot about buyer behaviour. Our research shows that property in Cornwall had more online views than those in any other AONB, no doubt driven by families returning from their holidays and dreaming about buying a permanent home.
Whether it's the desire to own a house overlooking the sea or wanting to balance city working with a country lifestyle, every buyer has a different reason to live in an AONB. But perhaps there is one overarching reason that unites them all.
These unique locations provide residents with protection from excessive or insensitive development. Government policy protects the valuable landscapes by recommending that major development should be refused except in 'exceptional circumstances'.
In future, that protection might be extended to new areas. This year, Environment Secretary Michael Gove formed an independent panel to investigate whether the current network of AONBs could be expanded, and is now asking the public for their views. This means that there may soon be more names to add to the list of England's most sought-after beauty spots.
Source: Rightmove. Comparing average time on market and views per property on Rightmove (2017-2018) and five-year price change (2013-2018)
Six heavenly homes in England's top beauty spots
Get back to nature with our choice of peaceful properties in Areas of Outstanding Natural Beauty
Appletree House, Norfolk Coast
Guide price £4,300,000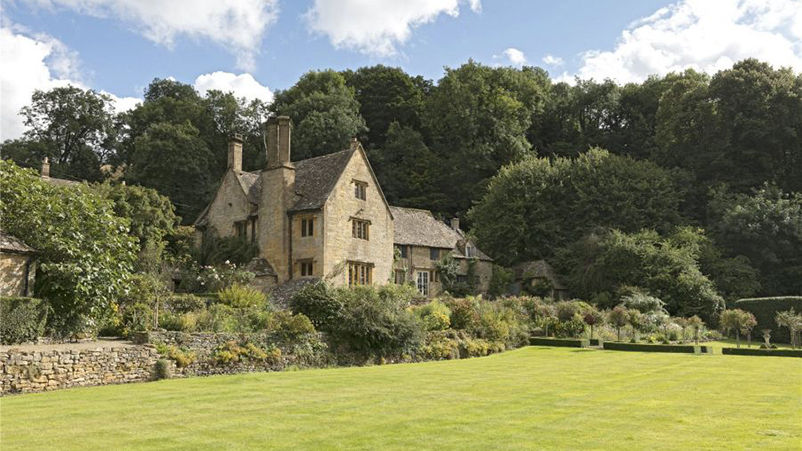 This magical five-bedroom house enjoys sweeping views over open countryside and has the benefit of a separate cottage and barn.
The Dower House, Shropshire Hills
Guide price £1,600,000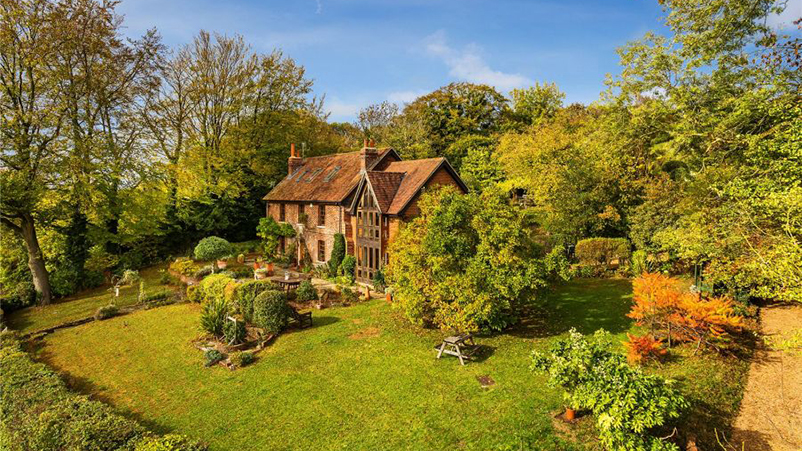 Built in 1764, this spacious five-bedroom house has been extended and modernised, and has a separate two-bedroom cottage in the grounds.
Fleet House, Dorset
Guide price £1,195,000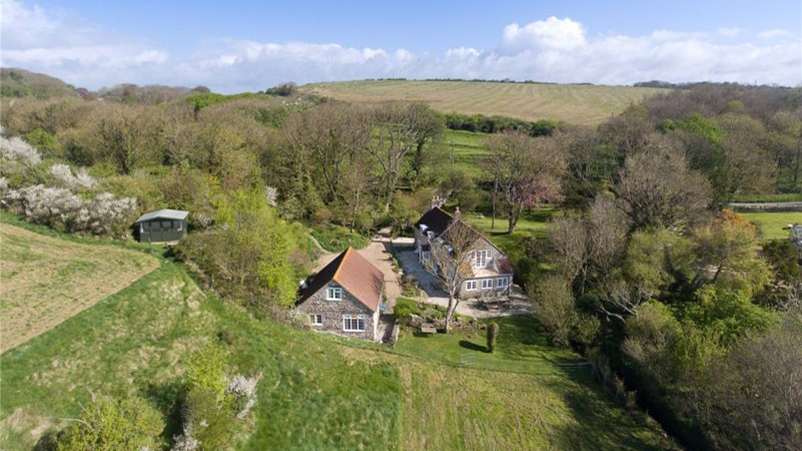 A 17th-century house that is full of character and period details, with separate annexe and breathtaking views over the Jurassic Coast.
Itchenor, Chichester Harbour
Guide price £1,650,000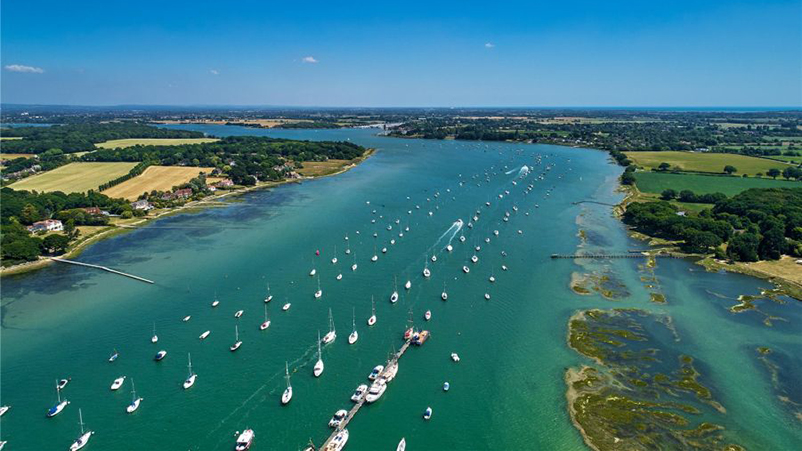 ---
You may also like...