Tough choices for first-time buyers to help save a deposit
Words by Lawrie Holmes
First-time buyers are essential to a healthy housing market. They are a key source of fresh capital, bringing benefits to property owners at every level, so it is vital that their efforts to acquire a home are not constrained.
Affordability is a serious problem, particularly in London. This puts first-time buyers under tremendous pressure and leaves them facing some tough decisions when trying to raise a deposit.
'First-time buyers can be integral to forming sales chains, which often run several steps up the property ladder,' says Tarrant Parsons, Economist at the Royal Institute of Chartered Surveyors (RICS). 'Furthermore, a housing market accessible to first-time buyers is one with greater liquidity, and this is beneficial to all those wanting to buy or sell a house.
'Without capital from first-time buyers, those looking to move homes would find it incredibly difficult to sell if properties were only changing hands among already existing owners.'
Anthony Lee, Joint Head of UK Residential Consultancy at BNP Paribas Real Estate, agrees and points out that diversity of funding strengthens the market. 'Money from first-time buyers boosts a market that has been too reliant on buy-to-let and overseas buyers in recent years,' he explains.
Although more new homes are expected to come onto the market following government calls for an expansion of housebuilding, first-time buyers still need to find ways of funding a deposit. The Help to Buy equity loan scheme has provided support, say experts, but the average first-time buyer's deposit is substantial – just under £33,000, according to Halifax, the UK's biggest mortgage lender.
'This is a big chunk of cash, especially as those in their early twenties are new to the workplace and are generally earning the lowest [salaries] in their careers,' says Danny Cox, Chartered Financial Planner at Hargreaves Lansdown.
'On top of this, as well as elevated house prices, rental costs are high and they could have the ball and chain of student debts, meaning that typically people don't get their first step on to the ladder until their thirties.'
So perhaps it's not surprising that more than 25% of UK property transactions involve the bank of mum and dad, according to research by Legal & General. 'For the other 75%, who have to do all the saving themselves, it takes time, effort and sacrifice,' says Cox.
It might not be easy, but it is possible for couples – who make up 80% of first-time buyers – to save £33,000 by giving up just six things for five years.
---
How a couple could give up six things for five years to save a deposit of £33,000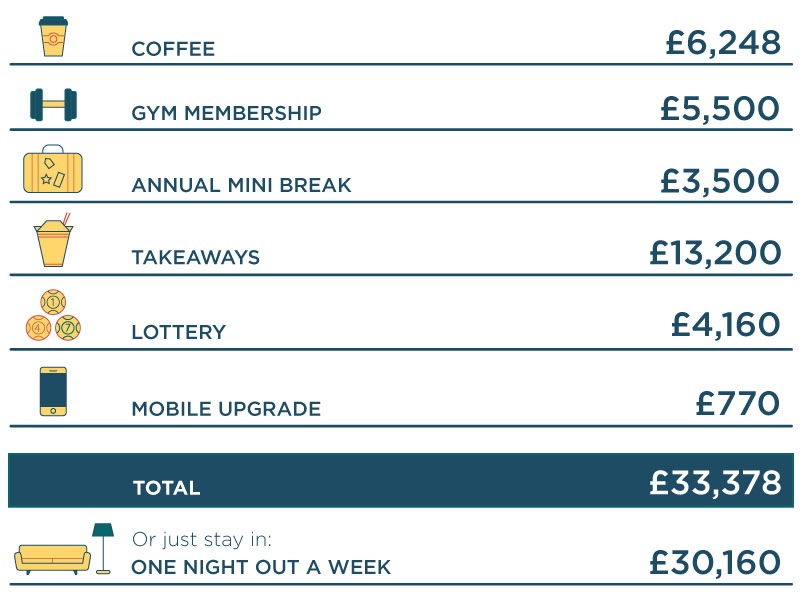 Sources: Buddy Loans, Be A Better You, Skyscanner, Voucher Codes, Voucher Codes Pro, Sell My Mobile, Deltic Group
---

Let's start with coffee. While buying a latte is now part of our everyday routine, it's hitting us in the pocket.
According to Buddy Loans, we're paying up to £700 a year on average for coffee from high street outlets. For a couple buying their daily cup from Costa, for example, that could mean a saving of £6,248 over five years – a massive contribution to saving for a deposit.
Another huge chunk could come from giving up the gym. We each spent an average of £550 on gym memberships in 2015, according to adult training provider Be A Better You, despite only going 13.5 times in the year – making a cool £5,500 that could be saved by our first-time buying couple.
When it comes to weekend escapes, the typical cost of a city break is around £700 per couple, says travel search site Skyscanner, making a saving of £3,500 over five years.
But staying at home can be even more expensive. Research from Voucher Codes reveals that we spend, on average, £110 a month each on takeaways, which could result in a whopping £13,200 over five years.
Add in the cost of playing scratchcards and the National Lottery – estimated by Voucher Codes Pro to be £416 a head annually, or £4,160 over five years for a couple – and the £770 on mobile phone upgrades over that period calculated by price comparison site Sell My Mobile, and you've saved up the average deposit for a first home.
If giving up six things seems like a bit of challenge, there is an alternative. Potential first-time buyers could forgo just one activity: a night out, which nightclub and bar owner the Deltic Group estimates set us back around £60 a time. But for many, the idea of giving up one of their nights out a week, saving £30,160 over five years, might just be too much of a sacrifice.
Saving up for a first home is undoubtedly hard work, which is why help from the bank of mum and dad, as well as government loan schemes, plays such an important role.
But if more young people are able to save a deposit and enter the market, the benefit will be felt by all homeowners as they move up the property ladder – even though coffee chains, travel agents, takeaway restaurants and nightclubs might not appreciate a generation of frugal first-time buyers.
---
You may also like...