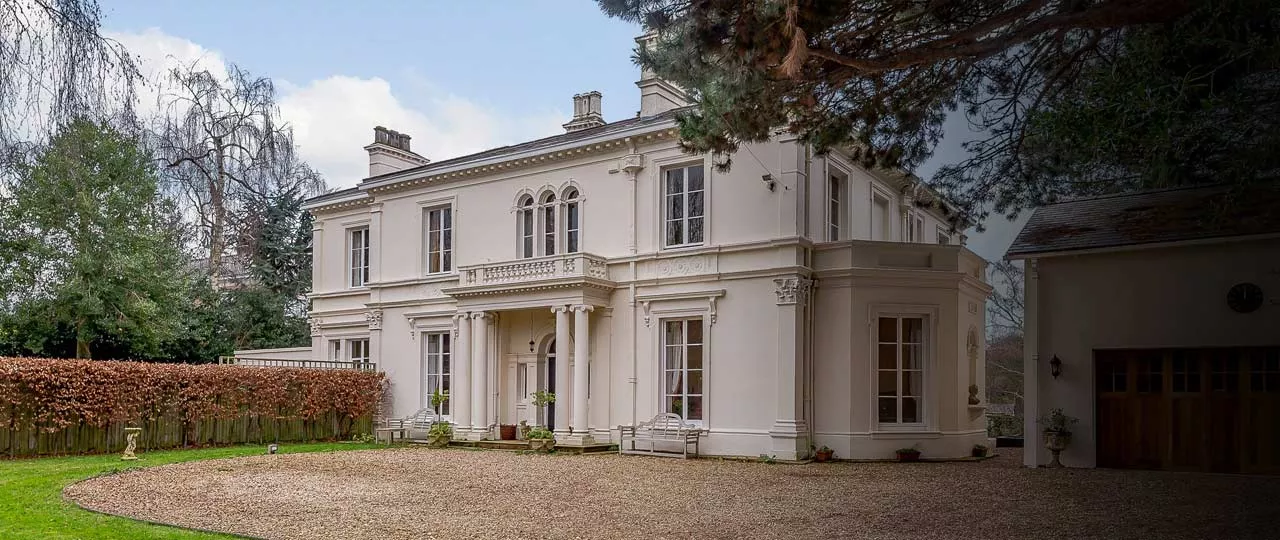 The Italianate architectural movement of the 19th Century was a vibrant reaction to the formal style of architecture from the very early Victorian period. This guide explores the specific benefits of restoring a splendid Italianate house and making it a home.
Moving away from the more rigid, formulaic homes of the early Victorian era, the Italianate style was initiated in the United Kingdom by famed architect John Nash. The warm but imposing style took inspiration from the Italian houses of old and transformed them into buildings replete with arches, cornices, cupolas, towers and corbels. Simultaneously fanciful and practical, these buildings attract most buyers with their sprawling grounds and evocative look.
The Italianate house movement
The first building to be attributed to the Italianate house style was Cronkhill, designed by John Nash for Francis Walford in 1802. Its features became an architectural template for the interpretation of the Italian Campagnea and Picturesque style.
Architect Sir Charles Barry later developed Nash's style in the 1830s. His unique take was referred to as "Barryesque", and focused more closely on the Italian Renaissance, foregoing the rustic kitschiness preferred by Nash.

How to recognise Italianate property
A true Italianate property is often stunning because of its palatial proportions. Many examples in the United Kingdom are expansive, with numerous colonnades and veradahs, beautiful gardens and warm tones.

Italianate houses are often noted for the external flourishes that identify them as being Italian-inspired. Porticos, columns and pedimented windows and doors draw the eye vertically, whilst sweeping archways and lengthy façades lead gazes horizontally. Extraneous cornice supports in the form of corbel brackets and detailed flourishes are common, as is the inclusion of flat roofs, generally hipped in nature.

These houses are usually built with brick, stone and stucco materials, with ornamental stonework to bring the walls to life. The harkening back to the Picturesque, or the "charming character of the irregular" (to borrow a quote from Kerr), is balanced by the heavily ornate but regular design of the buildings.

The interiors of Italianate properties continue in the same magnificent vein. Columns, painted panels, wall carvings, decorated ceilings and and vaulted rooms are common to the style. It's easy to see why so many of these properties are marketed as Italianate "villas" – their grandiose designs and lavish furnishings reflect the decadence of ancient Roman country homes.

Where to find Italianate property
Italianate properties are scattered across the United Kingdom, and range from city houses to elaborate country estates.

Osborne House, situated on the Isle of Wight, England, is a gorgeous example of this type of property. Featuring bracketed cornices, Italian-style towers, and arched windows, its warm-hued stone halls were a summer home for Queen Victoria and Prince Albert. East Anglia's Somerleyton Hall is another good example, as is Cliveden House in Buckinghamshire.

Italianate properties can also be seen in Yorkshire, Chester and Somerset.

Things to know before buying a Italianate house
Due to the unusual nature of these Italianate homes, this style of property appears and disappears quickly from the housing market. The quirky but regal features of this style offer property investors the chance to own a piece of elegant history, however their unusual decorative nature can lead to certain issues during renovation.

As these houses date back to the 1800s, their maintenance will be more extensive than more recent properties. Given the decorative details on the outside of the property, where wear and tear is more likely, owners may be required to bring in specialists to reface or resculpt the outer façades. Planning permission may be required for this type of property, given their historical significance and delicate design. Homes built before 1840 could also be listed as "special interest" buildings, which will require the owner to undertake more sensitive restoration.

Buyers seeking properties in the Italianate style to restore may find they need original materials, which can fall under the remit of local authorities, who may impose specific design features and interior décor.

Common issues with Italianate homes
Italianate properties are certainly an eye-catching addition to a property portfolio, but they can require significant maintenance due to problems unique to this style. These are worth considering before purchase.

For example, the complex flourishes on the exterior of the property walls may require upkeep from a dedicated specialist. The very design details that mark a property as Italianate are the most likely to be worn down through adverse weather conditions, due to their delicate nature and their age. Those purchasing an Italianate property may wish to consult with companies familiar with the materials and style of this type of building, particularly during the early stages of purchase and renovation.

The benefits of restoring a Italianate home
There is nothing quite like an Italianate home. Their extravagant exteriors, with interiors that boast glamour and ornate features, are unparalleled. Their juxtaposition with the simple green vistas of the United Kingdom make them desirable for property owners looking for something a little different.

Though the restoration of Italianate properties can be more difficult than other styles, the joy of owning such a property makes it worth the effort.

View our favourite Italianate properties or find out more about private property project services.