Find your rhythm: settling down in a festival town
When the great Pyramid Stage appears in Pilton, this small corner of Somerset transforms from farmland into festival site – this year attracting upwards of 200,000 revellers. But what about the residents? Being within hot shower-distance away from an iconic festival location has its upsides. And then there are the other 51 weeks a year. Here, we look at how festivals can put a town or city on the map – and why they might be the perfect place to pitch up for the long run.


Hitting the right notes with homeowners and business
Today, the joyful, boho vibes of the festival make themselves felt in Glastonbury's eclectic community spirit and colourful village feel.
From a financial and environmental perspective, the associated perks of living and working in places that host famous festivals are often far-reaching and long-lasting.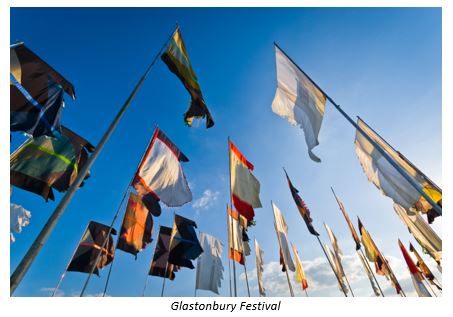 For those few days in summer when the Glastonbury Festival takes place, according to the local council, more than 1,000 jobs are created for the South West. And with 3,000 people paying for local accommodation, tourist spend alone generates £500,000 in Mendip, driving further investment into the region.
The Eavises also live up to their ethos of giving back to Pilton – paying over £1m annually to local good causes, as well as employing staff year-round. And, of course, the opportunity for residents to have first dibs on the much sought-after Glastonbury Festival passes are just the (golden) ticket. According to a spokesperson of the locally produced Somerset Cider Brandy: "Glastonbury puts Somerset on the map, drawing all sorts of creative people down on a more permanent basis. I can think of plenty of businesses that have started at Glastonbury which gave them their first boost."
From rock gods to arias in the air
At the other end of the music festival scale is Glyndebourne, which takes place in the grounds of a grand country estate near Lewes throughout the summer months. Glyndebourne's flagship summer programme of world-class opera – and fine picnics – has been a social calendar fixture for nearly 90 years.
"We often promote the proximity of Lewes to Glyndebourne in our sales particulars," says Adrian Passingham, who heads up Strutt & Parker's Lewes office. "People who've been to the festival fall in love with the local area and, as a result, the huge demand to be here does have a natural impact on house prices. It's a definite hotspot with stunning Downland views that attract buyers from all over."
Simply living close enough to Glyndebourne so that you can hear Stravinsky drifting over the garden fence makes this an idyllic location. At Strutt & Parker, we continue to see how Glyndebourne festival gives the small, but perfectly formed, Lewes a prestigious cache and historic significance that will always make it a hugely popular place to live or run a business.
Where words and global action take centre stage
Hay-on-Wye is proof you should, just sometimes, judge a book by its cover. For 11 days every spring, Hay Festival brings over 500 leading literary – and film and television – heavyweights to picture-perfect Powys. Famous luminaries who've spoken at it include Harold Pinter, Margaret Attwood and Professor Stephen Hawking. In fact, it's now the destination for visitors and residents who fancy rubbing intellectual shoulders with Nobel Prize winners, novelists, scientists, politicians, historians, environmentalists, musicians, artists and more – all sharing their latest thinking and discoveries with curious audiences.
But it's bliss for bibliophiles all year round. With so many bookshops lining the streets, the Hay Festival certainly feels at home in what has been named the National Booktown of Wales. And in this melting pot of literary and political influences, Hay-on-Wye also promises homeowners peaceful solitude in the woodlands and rivers of the surrounding Black Mountains.
US President, Bill Clinton, who has attended in the past, called Hay Festival the 'Woodstock of the mind.'
Others have described it as a 'Sundance for Bibliophiles, minus the Hollywood swag.'
Joe Martin, head of Strutt & Parker's Ludlow office, says: "The Hay Festival is of course the biggest event in Hay-on-Wye's calendar, but the town has plenty going on throughout the year, from musical festivals and exhibitions, to markets full of independent brands – all of which only reinforces its reputation as a hub of culture. In recent years, other festivals have followed the Hay Festival's success, such as How The Light Gets In, which takes place in the spring and is now recognised as one of the largest music and philosophy festivals in the world."
And, according to our 2023 Housing Futures survey, 29% of movers either want to live in a village or rural location – making the countryside surrounding Hay-on-Wye a box-ticker for buyers looking for a serene home wrapped in natural beauty.
In 2018, Hay Festival generated +£25.6m (within a 30-minute drive radius of Hay-on-Wye).
And along with supporting 400 jobs,
hospitality businesses continue to make a third of their annual turnover during the festival.


Enjoy the Bestival worlds: Lulworth Cove and Weston Park
One multi award-winning festival. Two different locations in the north and south. Camp Bestival has been a firm weekend fixture every summer for young families across the land ever since it began in 2008. Successfully combining an all-singing, all-dancing festival experience with a camping holiday, Camp Bestival organises plenty of cultural and musical activities to keep every age group entertained – including The World's Biggest Bouncy Castle and an amazing fireworks display.
It can be interesting to consider how a festival influences, as well as reflects, the location where it's held. Festival goers looking for a larger family home and a rural setting may well be won over by the different natural charms and individual characters of the two areas which play home to Camp Bestival. The most obvious are that Lulworth Cove is on the Dorset coast. While Weston Park is set among the green hills of the Shropshire countryside.
Lulworth Cove, Dorset
We know from our latest Housing Futures survey that 18% of individuals really do like to be beside the seaside. And Lulworth Cove's sandy shores are the ideal match for those seeking a coastal retreat. A move here would mean peaceful days exploring this UNESCO world heritage site, soaking up the ocean views and breathing in the sea air as you scale the cliffside. The combination of a beautiful beach with foodie hotspots overlooking the sea makes it an ideal location for families.
Weston-under-Lizard, Shropshire
Camp Bestival Shropshire in Weston Park gives festival-goers free rein to mooch around its manicured gardens and historic stately home. Other events taking place there include a vintage car show, tree climbing, wild swimming, and even an Ibiza-themed party night.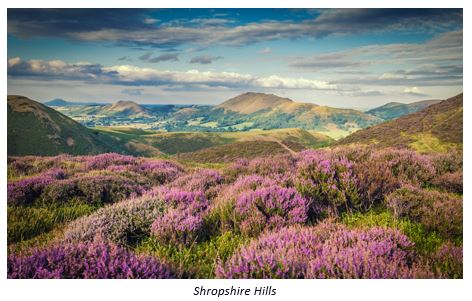 For anyone looking to relocate to the ultimate 'quiet spot in the country', nearby Weston-under-Lizard ticks plenty of boxes. Featuring the archetypal, English village community, it boasts plenty of beautiful properties, with a charming local church and post office. It's also a great place for intrepid walkers, and trails take you from the village into the surrounding Shropshire hills.
Life on the fringe, Edinburgh style
Edinburgh is not just about its famous Fringe Festival, which takes over the city in August. You'll find comedy clubs featuring big names and up-and-coming comics all year around, as well as open mic nights for ordinary mortals to show off their talents. And whether it's the traditional student enclaves of Polwarth, leafy Stockbridge, or the artisan delis and historic buildings in Edinburgh Old Town, the city's appeal for homebuyers and investors continues to grow.
Beyond the castle and city walls, you don't need to travel far to reach the Pentland Hills. Many happy hours can be spent walking up the rocky trails or strolling along gently undulating paths. From the height of summer to the bracing depths of winter, the ever-changing views are always worth the hike.
From a windswept, rugged coastline to a bustling city or tranquil country village, it's interesting to see how festivals impart their own spirit, character and commercial potential on the places they're held in. There's also the added advantage for locals who get a golden ticket to the festival on their doorstep.
At Strutt & Parker, it's important to us that you move into a home – and location – that's right for you. Which is why our local agents know an area, inside out. To find out more, please get in touch. And for the latest property trends, check out our latest Housing Futures publication, as well as our Take Five, showcasing five homes currently for sale close to famous festivals.
Header: Glastonbury Tor
---
You may also like...