THE TOP 10 COASTAL COMMUTER SPOTS
We Brits do like to be beside the seaside, and the draw of the coast continues to grow. Perhaps once relegated in our minds to images of deserted arcades, grubby fish and chip shops, or impossible-to-park-on promenades, coastal towns and villages are actually somewhere we want to live in and not just visit on holiday, even if we have to work elsewhere.
Our most recent Housing Futures survey indicates that the coast is the most desired location based on responses comparing where people currently live and where they said they wanted to live. For those aged over 35, only 4% live on the coast but a staggering 1 in 5 want to live there. For those between 18 and 35, only 2% can say they live beside the sea, but 8% say they wanted to.
Despite Nationwide's House Price Index showing a 3.5% annual fall in house prices to June 2023, our research shows that the average house price in coastal towns has grown almost 14% from the 2021 peak to the first half of this year, outstripping growth nationally.
For Kate Eales, head of regional agency at Strutt & Parker, the softening of the second-home market in recent months has highlighted the resilience of thriving shore-side hotspots despite the economic backdrop and soaring mortgage rates. What emerges are coastal towns that benefit from full-time residents, including those who have made the move there while being able to commute to their place of work. But what about in winter? Kate says winters don't put off coastal dwellers, "After that first winter when they're walking their dog on the beach in the spring sunshine, they've well and truly fallen in love and rarely look back. It's about making the most of those weeks before any holidaymakers descend."
With hybrid working here to stay, we looked at the commutable coastal spots around the country to create a top 10 list. These locations are based on a number of factors including affordability, commutability, community and year round amenities.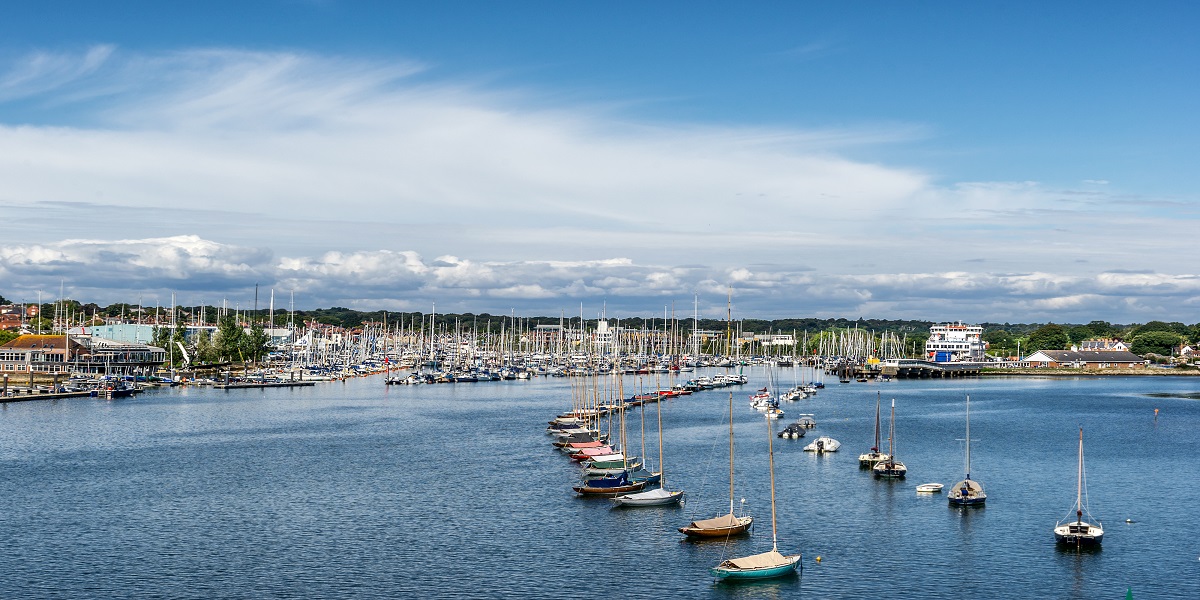 AVERAGE HOUSE PRICE 2023: £681,455 (2.2% annual growth, 37.1% five year growth)
TRAIN TIMES
To Southampton, 36 mins / £11.10
To London, 122 mins / £51.50
Lymington is the Hampshire seaside town that feels like the one everyone wants to live in – with the Marina a major drawing point. Lymington Yacht Haven is a mecca on the south coast for boat-owners – from sail boats to super yachts – and is one of the largest on the Solent. "There's usually a waiting list for people looking for a berth which gives an indication of just how popular it is. And because the boating fraternity never want to be too far from their boat (or the water), Lymington is often top choice for people relocating to the coast" explains Annabel Blackett, associate in our Country House Department.
For people wanting to move here, many properties have been split into flats and apartments that cost anything from £150,000 up to £500,000 for a terraced cottage. Semi-detached homes sell for anything between £500,000 and £1,000,000 depending on size and finish. And for more generous sized family homes, be prepared to pay at least £2,000,000, especially for sought-after streets in the centre of town such as St Thomas Street, Waterford Lane, Church Lane and Daniell's Walk. For a coastal town, it's very well connected with two railway stations and trains to London via Brockenhurst. "Many who've relocated here are fortunate to be able to work from home on a part-time basis, making trips into the capital a couple of days a week," says Annabel.
Aside from the sailing, Lymington has a thriving community and arts culture with the St Barbe Museum and Art Gallery, Sea Water swimming baths, Walhampton Golf Club and miles of coastal and New Forest walking routes. Annabel says that many relocating here are after a mix of coast and country, with the villages surrounding Lymington also in high demand. She says that stock is particularly low around Lymington as the National Park has prevented any sprawl, with buyers typically looking towards Bodlre, New Milton, Brockenhurst and South Baddesley. "One of the other big draws to this part of the New Forest is the hotel and dining offered at Limewood Hotel, and the first of the Pig Hotels at The Pig at Brockenhurst" she adds.
AVERAGE HOUSE PRICE 2023: £414,495 (6.8% annual growth, 31.1% five year growth)
TRAIN TIME
To London St Pancras, 86 mins / £71.90
Often dubbed as London's own coastline, it's no surprise that Ed Church, head of our Canterbury office, sees so many buyers happy to make the commute between the Kent coast and the capital. "Deal's popularity obviously sky-rocketed during the pandemic but demand has remained relatively stable, with a steady stream of buyers making the move to this quaint but cool coastal town." The centre of Deal benefits from having plenty of attractive housing, including Georgian cottages and Victorian villas, which can be hard to find in other seaside towns, and it's also got a notably long coastline which means there's lots of seafront homes. There's even some – such as 13 The Beach – where you essentially step out of your home onto the sand.
Deal has seen increasing investment and new openings in recent years which has really put it on the map for buyers looking to move to the Kent coast. The Rose's opening in 2018, for example, helped to make the town a destination for Londoners who move here after a spending a week holidaying in the town. The hotel's interiors are by East London designer, Michelle Kelly, which just illustrates the overlap between the city and Deal.
How does it compare to other Kent coastal towns? "The town rivals Margate for its culture with plenty of galleries and pop-ups during the year, and both the high street and beach front has lots of great restaurants, pubs and cafes," Ed says.
AVERAGE HOUSE PRICE 2023: £299,455 (-11% annual growth, 24.7% five year growth)
TRAIN TIMES
To Ipswich, 31 mins / £7.40
To Norwich, 90 mins / £29.10
"Closer in similarity to Ipswich than it is to the likes of Aldeburgh or Southwold – arguably Suffolk's most famous coastal towns – buyers come to Felixstowe because they want the year-round community, the benefits of a proper town centre with everyday amenities, and the practicalities of having the train station and A14 on their doorstep" says Sharnie Rogers, head of our Suffolk office. She explains that for those needing to be in Ipswich for work but who want to live on the coast, Felixstowe is undeniably the easiest option – whether you're hopping on the train for the under 30-minute commute, or jumping onto the A14 which gets you into Ipswich in no time.
"Old Felixstowe is typically the side of town that suits commuter buyers best" says Sharnie. "It's away from the more touristy spots around the pier and main beach, but is still quick into town and is an easy walk to the train station." The coast here is unspoilt and Cliff Road, in particular, is lined with larger family homes – all with spectacular uninterrupted sea views – and a coastal walking/cycling path which takes you into the town centre.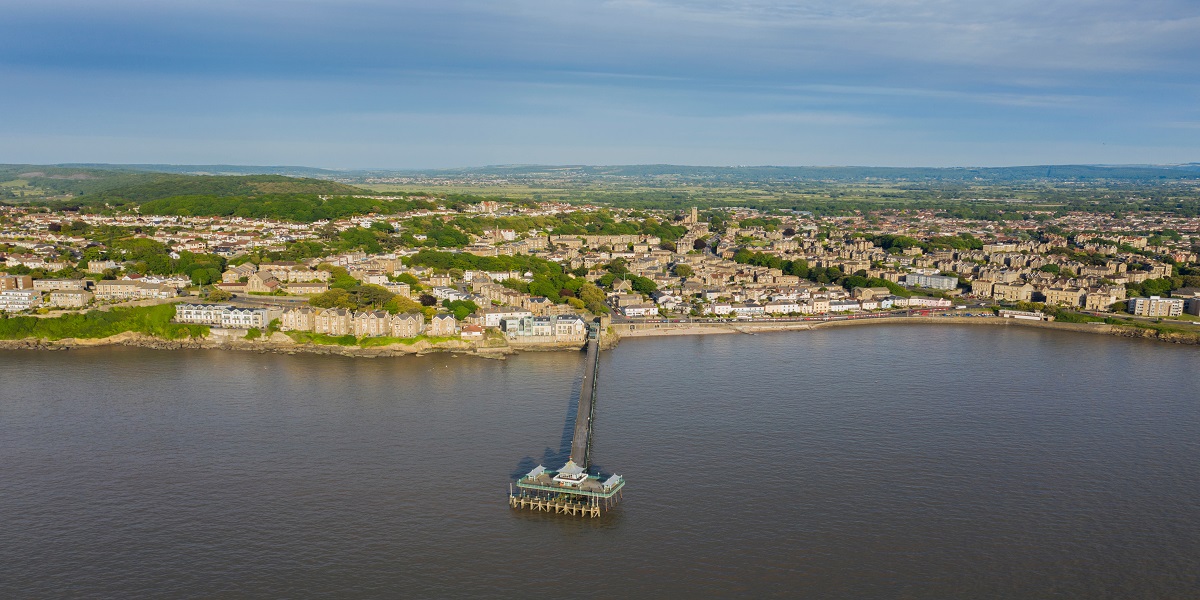 AVERAGE HOUSE PRICE 2023: £374,528 (-4.7% annual growth, 16% five year growth)
TRAIN TIME
To Bath (from Yatton) 33 mins / £14.00
BUS TIME
To Bristol 40 mins / £11.50
A traditional Victorian seaside town, Clevedon has managed to preserve its identity as somewhere that people live full-time, and hasn't become just another holiday hotspot. Surrounded by countryside but within easy reach of Bath and Bristol, this little town overlooks the Severn Estuary with its Grade I listed Victorian pier.
Even though there's no beach, Clevedon has what's referred to as the 'world's largest infinity pool'; a marine lake built during the roaring '20s. Refreshed during high tide, you can swim, go zorbing, and even hire sailboats. With two thirds of the lake being under 1.5m in depth, it's also child friendly. And for yogis, there's waterside yoga classes available too. For secondary school pupils, there's the 'Outstanding' rated Clevedon School, while for those under 11 there are three good rated Primary schools.
Housing stock is a mix of Georgian and Victorian houses, with detached period homes fetching in excess of £1,250,000 - with an added premium for a sea view of course. 20 th century family homes are around £700,000 to £800,000, but there are plenty of flats and apartments for under £500,000 - ideal for those who are trading the bustle of Bristol for the breeze of the coast. While it may not have the glitz and glamour associated with the coastlines of Devon and Cornwall, this North Somerset stretch certainly offers good value as well as commutability.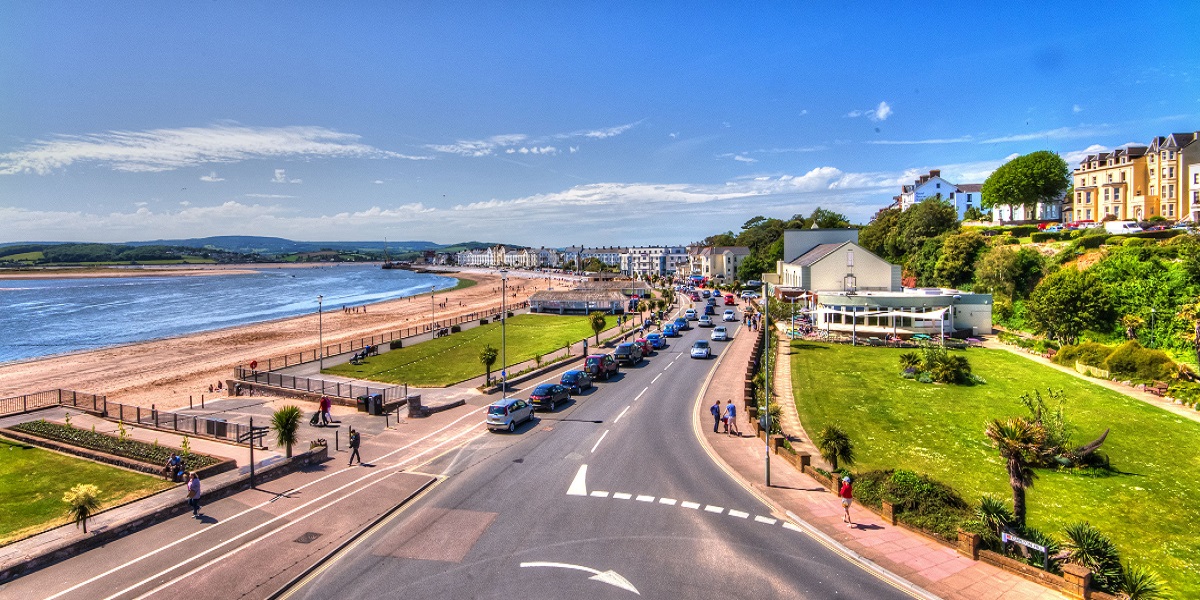 AVERAGE HOUSE PRICE 2023: £419,723 (12.2% annual growth, 30.2% five year growth)
TRAIN TIME
To Exeter, 33 mins / £7.40
"Despite being touted as the 'new Salcombe', Exmouth arguably has lots more to offer than its glamorous cousin down the coast" says Lloyd Colin of our Exeter office. There's a wider range of housing stock here – although prices have undeniably soared in recent years. Unlike other seaside towns, there's lots going on year-round with little sense of being a summer-only hotspot or full of second homes where the owners are only there when the sun shines.
Lloyd says the town has really become a foodie hub with plenty of independents popping up, from Mickeys Beach Bar and Henry's Cafe, the Grapevine Brewhouse which is a great micro-brewery, and Rockfish which you can turn up to by boat, should you so wish. "Lots of places also host events, like Hangtime Café which holds 'summer sessions' and The Point in the marina which organises live music every month. It's a really vibrant community, with much of people's lives centred on the three-mile sandy beach."
Buyers recognise how much this corner of Devon has to offer and while demand spiked during the pandemic, interest has certainly remained strong, our Exeter office reports. For example, Maer Barns is a collection of eight barn conversions located in the south of Exmouth and three were reserved by buyers before even launching – notably, two of these buyers are families moving from cities where an easy commute is an important buying consideration.
"The traditionally 'prime' roads are 'the avenues'. Set back off the seafront, these tree-lined streets offer large detached houses, with off-street parking and good-sized gardens, and are just a 20-minute walk to both the beachfront and train station," explains Lloyd. "The old fisherman cottages which are just around the corner from the station are also great first and second homes, and are popular with younger buyers commuting into Exeter."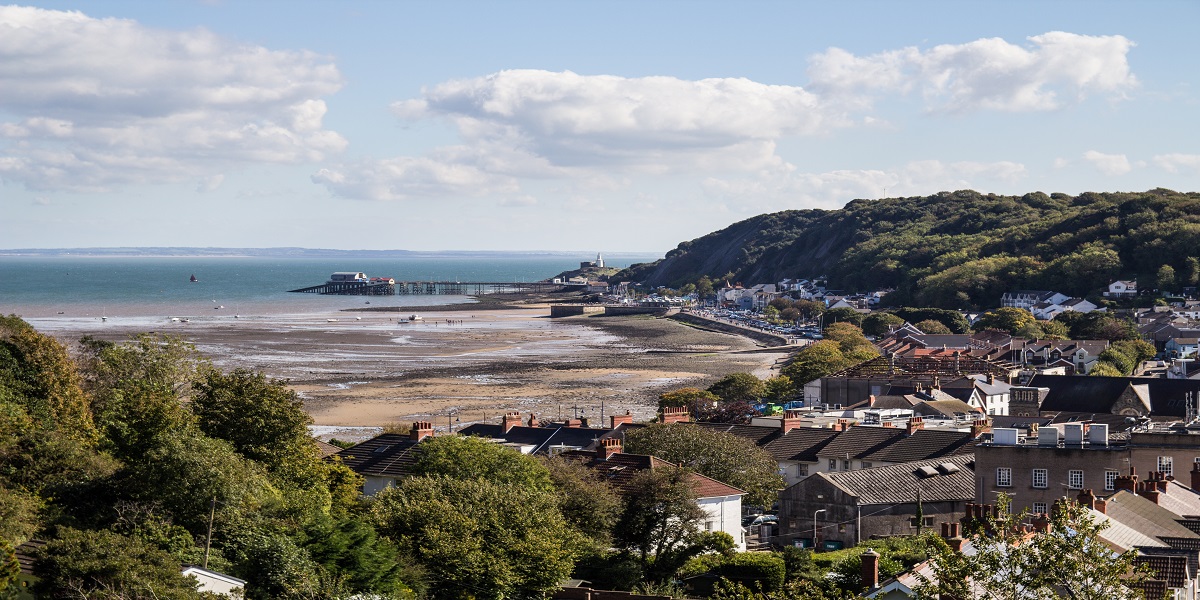 The Mumbles
West Glamorgan
AVERAGE HOUSE PRICE 2023: £369,829 (7.6% annual growth, 35.9% five year growth)
TRAIN TIME
To Cardiff via Swansea 52 mins / £13.90
BUS TIME
To Swansea 21 mins / £4.20
The Mumbles sits on the headland to the west of Swansea Bay on the Gower Peninsula, overlooked by the medieval Oystermouth Castle remains. Once the haunt of hen and stag dos, over the last few years The Mumbles has seen positive gentrification that has only been bolstered by those who lived in Cardiff or Swansea fleeing the city when lockdown eased. Like many seaside towns, The Mumbles boasts its own Victorian Pier that delivers British charm, and a range of independent stores and boutiques, interesting galleries, and foodie hotspots that make it somewhere to live year-round.
Despite its excellent coastal location, one of the major selling points of The Mumbles is its position next to the Gower Area of Outstanding Natural Beauty, the organisation's first UK designation in 1956. The AONB is famed for its limestone coastline, and natural habitats afforded by the mix of dune and salt marshes, cliffs and sandy beaches. The Gower coastal path runs past Mumbles' ice cream parlours and beachside cafes and bistros, so you're perfectly placed to make the most of all the surrounding has to offer.
Streets are lined with colourful terraced cottages for between £300,000 and £400,000, and make up the bulk of the housing stock here, with larger detached or semi-detached homes on the outskirts towards Langland commanding prices from £750,000 up to £1,000,000. Due to the protected nature of the AONB and the coastline itself, the area has been unable to sprawl which helps to maintain house values.
Bridlington
East Riding of Yorkshire
AVERAGE HOUSE PRICE 2023: £183,280 (-1.9% annual growth, 25.7% five year growth)
TRAIN TIME
To Hull 47 mins / £18.30
To York via Seamer 89 mins / £37.20
To Seamer 115 mins / £38.00
On the Holderness stretch of the Yorkshire Coastline, the seaside town of Bridlington – known to locals as 'Brid' - is rumoured to date back to the Bronze Age, bucking the Victorian seaside town cliché. Home to several historic landmarks including the Bridlington Priory, Harbour Heritage Museum, and the Bayle Museum, the town also boasts two award winning beaches: the North Beach and the South Beach.
What 'Brid' is probably most famous for, in addition to being a Dad's Army filming location, is its reputation for fishing. The Bridlington Bay Lobster is native to the East Yorkshire Coastline, traditionally caught using the lobster pot method. The town is referred to as the lobster capital of Europe, with catches amounting to around £10M in 2019.
Bridlington is somewhere that offers year round activities – from 'Knit and Natter' to Pride events, Comedy Clubs, art exhibitions, and dance groups. Bridlington's Spa Theatre plays a central role in hosting many of these throughout the year. Housing stock was in high demand during the Covid 'race for space', with four-bedroom family homes priced from between £350,000 and £500,000, with smaller terraced and semi-detached homes ranging from £100,000 up to around £300,000.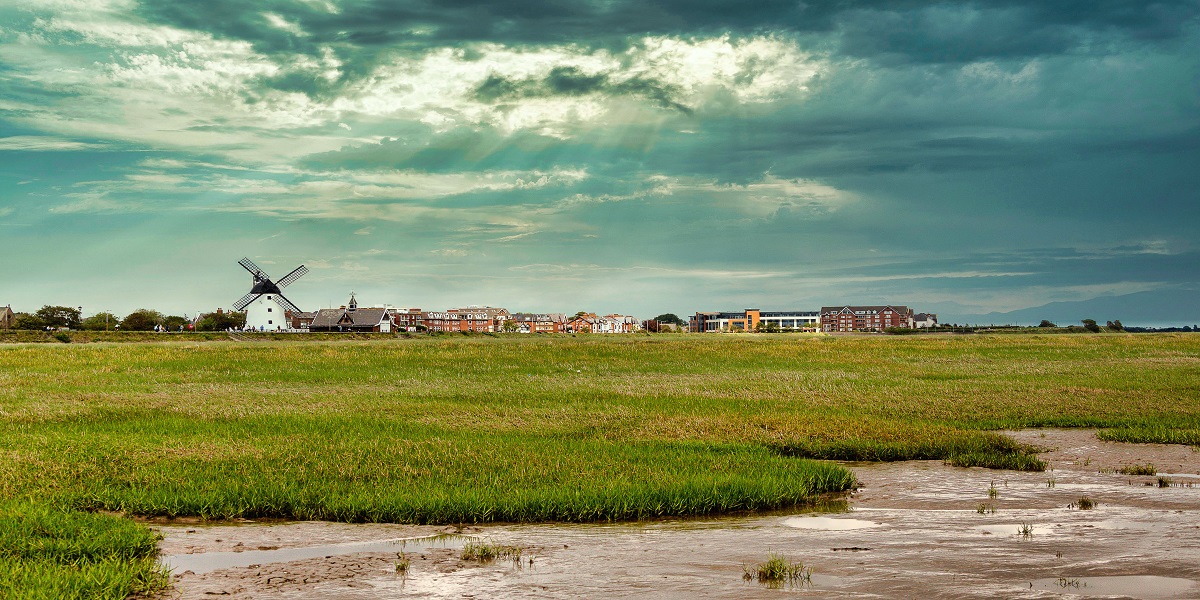 AVERAGE HOUSE PRICE 2023: £247,693 (7.5% annual growth, 17.9% five year growth)
TRAIN TIMES
To Liverpool 96 mins / £15.50
To Preston 26 mins / £9.40
To Manchester 85 mins / £18.00
Lytham, to the south of the lights of Blackpool, stands out on the stretch of Lancashire coastline thanks to its iconic restored windmill sitting proud on the landscape overlooking the Irish Sea. The landmark sitting on the 'Green' is also home to the Lifeboat Museum, attracting over 20,000 visitors annually. And while Lytham maintains the Victorian charm of the British seaside town, with Promenade Gardens in St Anne's, Lowther Gardens, and Fairhaven Lake, the centre of town is a mix of independent shops and high street names, centred on Clifton Street.
Lytham is home to continental-style restaurants with outdoor seating like Ego Mediterranean Restaurant, and The Olive Tree Brasserie, as well as more traditional seaside eateries like Whelan's Fish and Chips and Chell's café. There's a Booth's both in Lytham and St Anne's, the Royal Lytham & St Anne's Golf Club, while for schools there are two 'Outstanding' rated primary schools, two 'Good' rated secondary schools, as well as the St Anne's College Grammar and AKS Lytham - the two local independent schools.
Houses in the Lytham St Anne's area range from three and four-bedroom chalet-style homes and cottages from £200,000 to £300,000 while detached family homes start from around £400,000. Generously proportioned Victorian family homes close to the centre can command prices upwards of £1M, while on the outskirts you'll find larger period and contemporary homes for upwards of £1.5M depending on finish, and if there's any land included in the sale.
AVERAGE HOUSE PRICE 2023: £245,542 (5% annual growth, 19% growth since 2020 peak)
TRAIN TIME
To Inverness 20 mins / £10.30
Nairn is a good shout if you think Scotland might be too cold for you. The climate here and number of daylight hours compared to the Highlands means it's a great place to be in the winter, not just the summer months, and tends to be a lot milder, with less snow than the neighbouring inland towns. Kevin Maley, head of our Scotland teams, says some residents have been known to swim in the sea all year round! "If you're not feeling brave enough for a winter dip, you're only about an hour's drive from the Cairngorms National Park so you can head to the mountains to go skiing and snowboarding without having to get on an aeroplane!"
"The main attraction for buyers is the sunny climate, relatively dry weather and beautiful beaches which attract plenty of wildlife - including dolphins, whales, seals and birdlife. It helps that the town has a thriving community too – with plenty of hotels, cafés, restaurants and sporting clubs." For the best restaurants, The Sun Dancer Bar & Restaurant was recently voted Scottish Restaurant of the Year and serves great seafood. If you're a keen golfer, like Kevin, the area has two championship courses on the doorstep.
Property prices are dependent on how close you are to the beach. Flats and apartments can be found for around £350,000 while for a detached family home, you can expect to pay nearer to £1M. "Quite a few of the sales in recent years are those snapped up by southern buyers relocating to Scotland who are attracted to the town's great connectivity," says Kevin. "Interestingly, many of those who have jobs in London opt to commute from Inverness airport which is nearby. This is helped by the fact that Nairn station offers direct service to Inverness in around 20 minutes."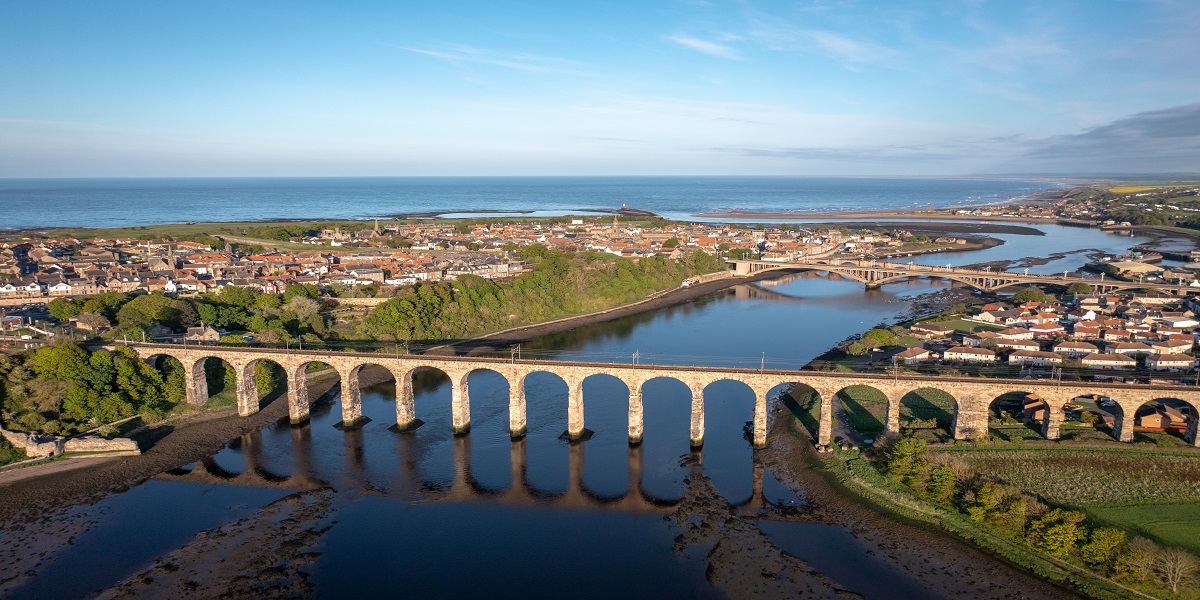 Berwick-upon-Tweed
Northumberland
AVERAGE HOUSE PRICE 2023: £194,583 (-16.4% annual growth, 30% five year growth)
TRAIN TIME
To Edinburgh 53 mins / £22.30
To Newcastle 43 mins / £16.70
The northernmost town in England, 'Berwick' sits just two-and-a-half miles from the Scottish border, so the historic streets are filled with an accent that's a mix between Scottish borders and a Northumbrian lilt. It's the only town where an English football team plays in the Scottish league, and it's also known as 'the most fought over town in Europe' thanks to battles between the English and Scots for centuries over this little coastal gem.
Berwick is home to a thriving community atmosphere, as well as a sandy beach. From the community-run garden in Castlegate and crafting pop-ups, to exhibitions at the Dockside Gallery and a Food & Beer Festival, there's lots to keep families entertained. Berwick-upon-Tweed's children are well looked after at the Ofsted 'Good' rated Berwick St Mary's Church First School, and the Middle School. The Grove Special School that caters for children between two and 19 years old is also rated 'Outstanding'.
Behind the Elizabethan ramparts lie 18 th and 19th century streets lined with terraced cottages, with a mix of Victorian Villas, Georgian townhouses, some with views overlooking the sea or the River Tweed. Detached family homes are around £500,000, while chalet style homes or terraced cottages range from about £300,000 to £400,000. As you head away from the town centre, you'll find homes with land, impressive waterside views and sprawling gardens which can fetch in excess of £1M.
This research first featured in The Telegraph.
---
You may also like...