Is the cost of housing reshaping the jobs market?
Words by Ruth Bloomfield

The cost of housing is having a significant impact on the employment choices of British workers, according to new research commissioned by Strutt & Parker.
A survey of 2,000 full-time employees reveals that many are either leaving existing jobs or turning down work because of high housing costs. Others choose to commute in a bid to combine an affordable home with a job in a rewarding but more expensive location.
'The impact of housing costs on employment choices is down to two key factors,' explains Vanessa Hale, Director of Research at Strutt & Parker. 'House prices remain high, so there is a move to less costly areas, but high-paying companies are still often city-based. As a result, employees are either commuting for longer or opting to work at least part of the time from home.'
According to Strutt & Parker's research, the cost of housing is now one of the main considerations when people decide whether or not to accept a job, with 85% of respondents citing it as an important factor.
Housing also plays a major role in job mobility. Some 44% say they have either not applied for a job, or not accepted one, because of high rent or house prices.
Add in the 41% who have left one or more jobs because of local housing costs, and it's clear that affordability is a significant issue for those wishing to live close to their work.
So perhaps it's not surprising that there has been a surge in the number of commuters. The Department for Transport says that more than half of all rail journeys in England are now for commuting purposes.

According to Strutt & Parker's survey, the average commute takes 34 minutes, although almost one in 10 respondents say they travel over an hour each way. Commuters in the North East have the longest journeys to work – 49 minutes – but other locations also require hefty travel times.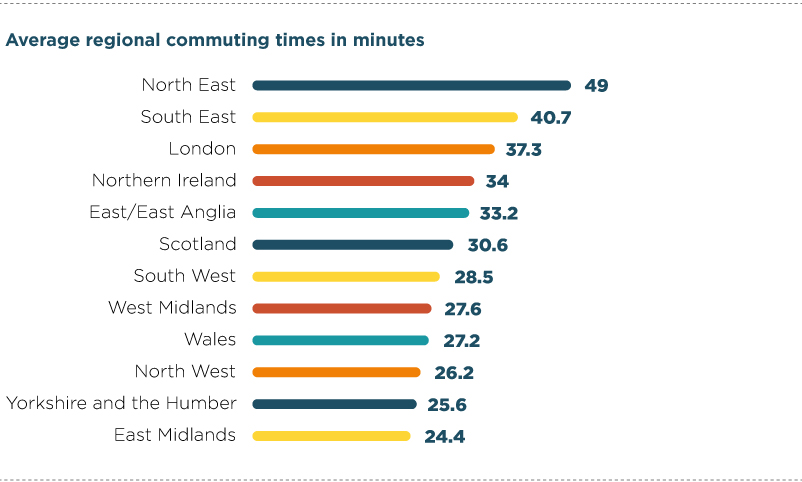 Whatever the area of the country, most people have a psychological one-hour barrier when it comes to commutes, according to Kate Eales, National Head of Lettings at Strutt & Parker.
'Commuting is largely down to family life – it's about good schools and having a local support network of people,' she explains. 'But enjoying a healthy work-life balance is also becoming important, so there is a limit to how far people will travel daily for work.'
The importance of local connections and support is reflected in the research. Nearly half of respondents commute because they have friends and family in the area, while 41% cited good local schools near their home.
But the survey also reveals the negative effects of commuting, with just under half of people saying the journey to and from work means they are often tired, and 40% claiming it makes them less productive.
However, the overall impact of commuting is a little more nuanced. Researchers from the University of the West of England (UWE) Bristol examined the effect commuting had on the wellbeing of more than 26,000 employees in England over a five-year period.
The study revealed that, all else being equal, every extra minute spent commuting reduces job satisfaction and leisure time – but there was a key benefit, too. Longer commutes actually made people feel more positive about their lives.
'People take on longer commutes for reasons relating to improving employment, housing and family situations,' explains Dr Kiron Chatterjee, Associate Professor in Travel Behaviour at UWE Bristol. 'And these factors serve to increase life satisfaction.'
Of course, commuting isn't the only solution to living and working in different locations. Strutt & Parker's research found that a fifth of employers now offer flexible working: balancing days in the office with time spent at home.
It's a trend that's growing, according to Simon Roberts of Strutt & Parker's Gerrards Cross office.
'Employers are increasingly supportive of working from home, driven in part by new technology,' he explains. 'One question we're regularly asked by buyers is, "what is the local broadband speed?"'
Around half of all the properties Simon sells are bought by people who work in London, and their requirements are changing.
'Buyers are now looking for ancillary accommodation suitable for home working because they often don't have to be in the office every day, which makes commuting a lot easier,' he says.
Robin Opie, a consultant on property interiors, agrees. He points out that informal working conditions – from the gig economy to freelance consultants – are making us think about our homes in a new way.
'People want to check on floor space for a home office or judge if the garden is large enough for a remote office,' he says. 'Whether it's the number of bedrooms or the potential to expand into the loft, what we want is changing every year as the boundaries of work and home life blur.'
This makes the future exciting but also daunting, as our working and domestic lives undergo a fundamental change.
'And that future is already here,' explains Strutt & Parker's Vanessa Hale. 'If you leave London on Thursday, you'll find that the trains and roads are busier than on Friday evenings as people head out of town early and work a day at home.
'It's just one sign of a more radical shift as employers and employees navigate the new relationship between housing and work. A few companies are even helping to pay for staff accommodation so employees can live closer to their jobs – a little like how they now subsidise season tickets for commuters.'
Only one thing is certain: that the idea of leaving work behind when you walk out of the office is firmly rooted in the past. Instead, we may all soon be walking out of the office – and straight into our living rooms.

Source: online survey conducted by Atomik Research among 2,001 UK full-time employed adults during 1-6 November 2018
---
You may also like...