What's been moving home movers since 2013?
The latest 10th edition of Strutt & Parker's Housing Futures survey examines a decade of shifting property trends: from health and personal finance, downsizers and upsizers, to privacy and politics.
Harold Wilson once said: "A week is a long time in politics." So, imagine what could happen in ten years. Four prime ministers, three Covid lockdowns, two monarchs and one Brexit referendum later, to say the UK has experienced ups and downs since 2013 is an understatement. And the housing market has undoubtedly reflected this turbulent time.
"For the last ten years, we've been exploring what drives decisions when people move home, with the aim of identifying changing priorities, trends, must-haves, and deal-breakers," explains Matt Henderson, associate director of residential research here at Strutt & Parker. After stepping into our metaphorical time machine, we've travelled through the past 10 years of our Life Moves publications - based on our renowned Housing Futures annual survey – to create a snapshot of the biggest risers, fallers and non-movers regarding what buyers, sellers and renters look for in their next home.
Personal finance matters
One of the most striking changes is how much the ever-growing pressure on affordability has driven the decision to move or stay put. In 2012, when we carried out our first Housing Futures survey, personal finance ranked 10th. But fast-forward to 2022, and it has risen six places to 4th position. The main reason behind this surge can be attributed to house price growth and rents consistently rising faster than what people earn. According to the Office for National Statistics (ONS) the house-price-to-earnings ratio for England in 2012 - at the tail-end of the UK property market crash - meant that the average home cost 6.76 times the average annual earnings. Ten years later, it was 8.4 times that amount.
Despite a decade of economic challenges for the UK as a whole, London has kept its cultural and culinary allure, with the capital's investment potential stronger than ever. Since 2012, average house prices in Prime Central London increased by 85%, unemployment halved, and the number of two-star Michelin restaurants grew from 7 to 12.
The what, where and wi-fi
The latest instalment in our Housing Futures research offers a decade's worth of insight into which features property hunters consider essential – and which fall into the 'dream home' category. By 2022, bathroom rain showers pushed underfloor heating to second place. And both walled gardens and swimming pools were top of our list, leaving the summer pergola at the bottom.
"Identifying the motivations that turn from luxuries to must-haves, and then to mainstays, is crucial in understanding the influences that underpin the housing sector. Be that how new homes are built, old homes are retrofitted, lets are renovated or simply influencing what's in demand," explains Matt.
Connectivity is a great example of this. Better broadband and wi-fi connectivity was only considered 'very important' by fewer than half of respondents ten years ago. However, its importance rose through the ranks reaching a peak of 72% in 2018 when it was the most important motivator. Curiously, broadband has now dropped three places to become the 7th most important motivation in the most recent survey - perhaps signalling that broadband is an expectation rather than an exception, leaving other priorities to come to the fore.
Reduced running costs and improved energy efficiency grew as a motivation to move for 40% for the first part of the decade, rising to 70% in the last two years.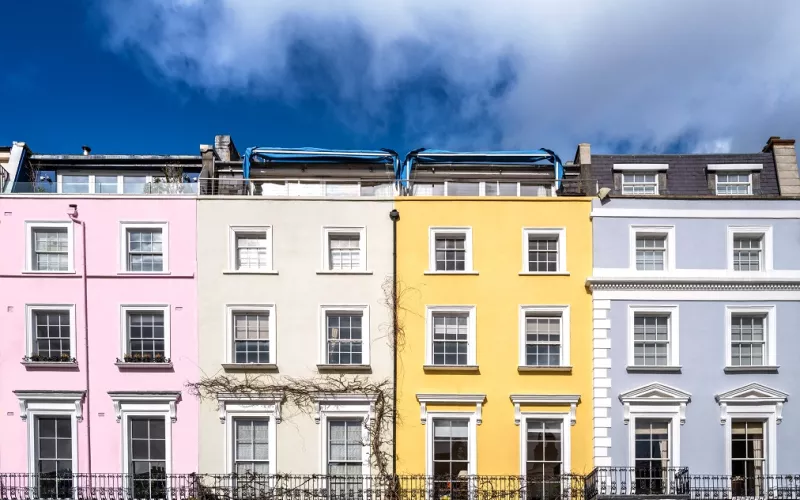 Health is where the home is
A major impact of Covid has been to make us more health conscious. There's now a direct link between our homes having good ventilation and outdoor access to reducing illness and improving mental health. In 2013, caring for our physical health ranked 11th. By 2022, it jumped to 5th place as a significant motivator to move.
"We've seen health become a weightier driver for relocation in the wake of the pandemic – along with other wellbeing related aspects, such as being close to a GP, air quality, and proximity to green or blue space," says Kate Eales, deputy head of residential agency at Strutt & Parker.
Another significant shift is in how age groups prioritise health. In 2018, under half of 45–54-year-olds considered it important in their decision to move. But today, 70% of this demographic judge health in the same way as those over 80.
Downsizing drops down
Interestingly, what the past decade has shown is that wanting a smaller home and plot is now one of the weakest motivations for moving. In 2013, roughly 50% of people cited a smaller home as an important reason to move, but by 2022, this dropped to only 34%.
But does retirement have to mean shrinking your living space into something more manageable? The growing trend for staying put in larger houses is reshaping the residential market hugely. Whether it's because of the rising costs of upping sticks, the growth of multi-generational living, or the general lack of smaller housing options, keeping those extra bedrooms starts to look like a practical, cost-effective option; and ensures there's always a spare room for family visits too – all factors we explore in one of the chapters in this year's publication.
And where do you fit in to wider trends? In our latest Housing Futures survey, we looked at what proportion of people from each age group said they were intending to downsize, upsize, or stay in the same sized home.
Privacy isn't overlooked
Home is our sanctuary. A quiet, safe retreat from the outside world. So, whether we live in a flat, bungalow, townhouse or detached cottage, few of us want to be overlooked or overheard. Ranking consistently among the top two motivations since 2013 – both in urban or rural settings – 'privacy' is still perceived as a treasured asset for owner-occupiers, only briefly dipping below 'Lifestyle Change' and 'Access to Shops and Amenities' in 2015.
Is the rest just politics?
Despite 2022's financial fallout caused by 'Trussenomics', the political environment has sat firmly at the bottom as a driver for change. Home movers today are more concerned about sustainability and energy-efficient homes, access to facilities, community, schools and transport links rather than Westminster power plays.
For the complete picture of how, why, and where the property market has changed, both over the past decade and in the last year, our 10th edition of 'Life Moves. 10 Years On' is ready for you to read.
---
You may also like...