Inspire
Home of original thinking
homes
interiors
Interior Design
Happy and glorious: the interior design trends that span Queen Elizabeth II's reign
A brave new world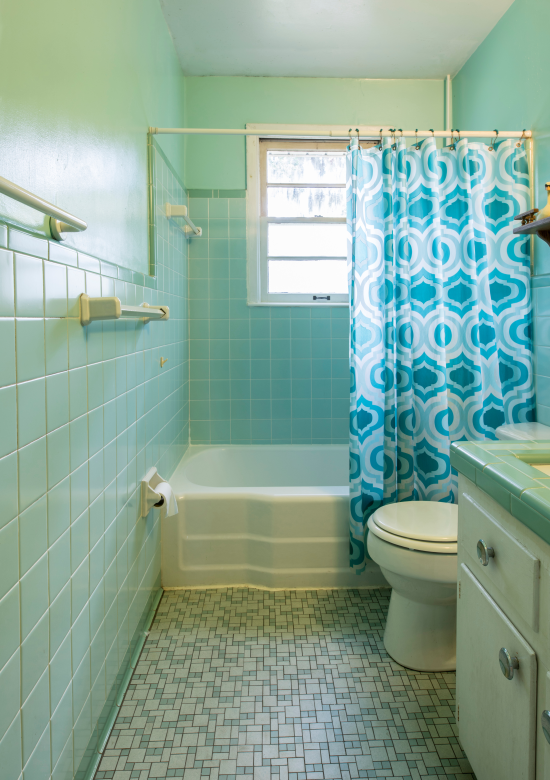 Formica tabletops. Bold chequerboard vinyl. Fashionable mezzanine levels. Quietly transformative, 50s interior design also saw the introduction of labour-saving devices like the ironing-board and fridge. And in 1953, there was a seismic shift in the nation's relationship with their sitting-rooms as the television made itself at home. Over 20 million people tuned in to watch the coronation of Princess Elizabeth in a glittering ceremony at Westminster Abbey, the largest ever public broadcast to date in Britain.
One giant leap for… home décor
No doubt the Queen and Prince Phillip tuned in to witness the Apollo 11 moon landing in 1969 – and later welcomed the famous crew to Buckingham Palace. The space age certainly inspired 60s interior design style, with everything from futuristic lava lamps to egg-shaped chairs coming into vogue. Vibrant wallpaper, psychedelic prints and bold pops of colour were all the rage too, influenced by the creations of artists like Bridget Riley and Andy Warhol. Innovative stores such as Habitat, which opened in 1964, brought contemporary homeware to the British public, while also introducing a revolutionary product: flat-pack furniture. Not only has this stood the test of time – it's tested more than its fair share of relationships.
Where there's wicker, there's a way
Breaking with tradition on a tour of Australia in 1970, the Queen greeted crowds on foot, beginning the first of many royal 'walkabouts'. Interior design, 70s style, bucked quite a few trends too, moving away from the harder lines of the 50s and 60s towards playful experimentation. Many homes sported a softer, more neutral aesthetic, with wicker furniture, wooden floors and plenty of house plants – features of 70s retro design that we find in our living spaces today. Communal areas also became more informal, with sunken sofas and lower coffee tables, making the Queen's Silver Jubilee in 1977 a much more comfortable viewing experience.
Back to the future of design
The Queen dressed in a pale turquoise dress and matching hat for the wedding of Prince Charles and Lady Diana Spencer in 1981, setting the scene for the pastel-obsessed decade to come. Putting soft colours like mauve, peach and mint green top of the list, 80s interior design also celebrated an eclectic mixture of styles: Laura Ashley florals in the country, and bold geometric shapes to enhance a sense of urban minimalism in the city. People used mirrors, chrome and glass to make their apartments look bigger, while an art deco comeback also saw the revival of rounded furniture and arches in open plan living spaces.
The decade that changed everything
If technology was beginning to change the way we lived and worked, it was to have an irreversible effect on 90s interior design. The new 'home office' had to accommodate bulky desktop computers, fax machines, telephones and games consoles – a far cry from the slick remote working set ups of today. In the living-room, floor-to-ceiling bookcases emerged to fit ever-growing CD collections.
For the Queen, the 90s had its fair share of highs and lows. She dubbed 1992 her 'annus horribilis', ending as it did with the devastating fire at Windsor Castle. This led to one of the largest interior design programmes ever undertaken. It was completed five years to the day after the outbreak of the fire and on the 50th wedding anniversary of the Queen and The Duke of Edinburgh. Overseen by the Duke himself, the head-scratching project involved restoring half of the rooms to their original state, alongside new designs for the Queen's private chapel and the ceiling in St George's Hall.
Home is where the art is
Though it was a time of renewed optimism across the country, the beginning of the 21st century continued to be difficult for the Queen. Her mother and sister died within months of each other in 2002, the year she celebrated her Golden Jubilee. But there were happier times ahead. The Queen celebrated her 80th birthday in 2006 and her grandson, Prince William, married Catherine Middleton in 2011. This decade saw the birth of several great-grandchildren, the celebration of her Diamond Jubilee in 2012 and the wedding of Prince Harry and Meghan Markle in 2018.
Keeping pace with the more modern style of monarchy that the noughties and early teens ushered in, interior design similarly became more relaxed. A stripped-back, urban industrial look with exposed brick and LED lighting was popular in early 2000s interior design. The challenges of lockdown shifted the rules again, changing how we interact with our homes. Suddenly, kitchens had to morph from home office by day to elegant dining room by night. And space (whether inside or out) has never been so coveted.
Now, almost anything goes. Country house chic. Scandi-style minimalism. Even a groovy 70s look. If the past seven decades of Queen Elizabeth II's reign has taught us anything, it's that we've always embraced the endless possibilities of interior design. And, like our longest-reigning monarch, shown pluck – no matter what life throws at us.
Find your latest interior design inspiration and discover the latest Strutt & Parker properties in your area.
---
You may also like...